Posted on
Police officers graduate from training course in handling sexual offences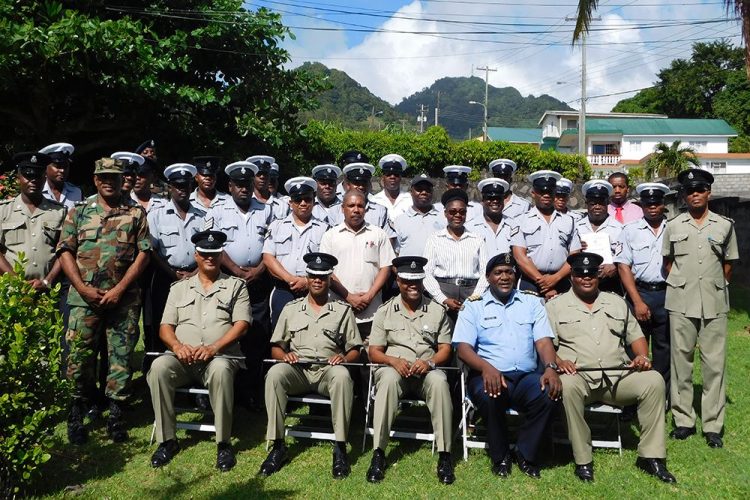 Twenty-Five station sergeants and corporals from most of the police stations in the country graduated last Friday from a one-week course in handling sexual offences.
Speaking at the closing ceremony, course coordinator Assistant Superintendent of Police (ASP) Trevor Bailey explained that the participants displayed a high level of enthusiasm in all presentations and that they have been retooled and are better equipped in all subject areas.
Bailey said the subject areas covered during the course included: station management, statement taking, electronic interviews, handling, packaging and presenting of exhibits to the court, sexual assaults and mental defect, first responders of a crime scene.
Newly appointed Commissioner of Police (Ag) Collin John said the theme for the course, 'Equipping Future Leaders' was very relevant and the idea for training the Non-Commissioned Officers (NCOs) came about after female officers were trained in the sexual offences course in December.
"It is of no use or it can really hamper the progress of the organization, if a junior constable learns how to deal with sexual offences and the person who has to supervise them has no knowledge about it," the acting Commissioner said.
John reminded the NCOs that when taking a statement from persons who are victims of sexual offences, they should be empathetic and do so as privately as possible.
"We have to make sure when a person comes to the station to make a report of a sexual nature that the statement is taken as privately as possible. You know how it is in terms of persons explaining what had transpired in the presence of other persons," John said.
ASP Bailey expressed that as a result of the training, it is expected that a higher level of work will come from the out districts, as well as focus on better service to the nation. However, he mentioned, there were more topics to be taught, which they were unable to cover, due to the one-week constraint. Nevertheless, he expects more training to continue throughout the year.
The acting Commissioner urged the participants to better supervise their subordinates and to pass on the knowledge of what they were taught.
"You were given tools to do the job. It is of no use to you if you do not share it," John said.
The course ran from Monday, January 15 to Friday, January 19.
Two station sergeants, three sergeants and 20 corporals graduated from the course with certificates in NCO Sexual Offences Training.(CB)