Posted on
Agricultural export strategies targeted via Soursop Planting Project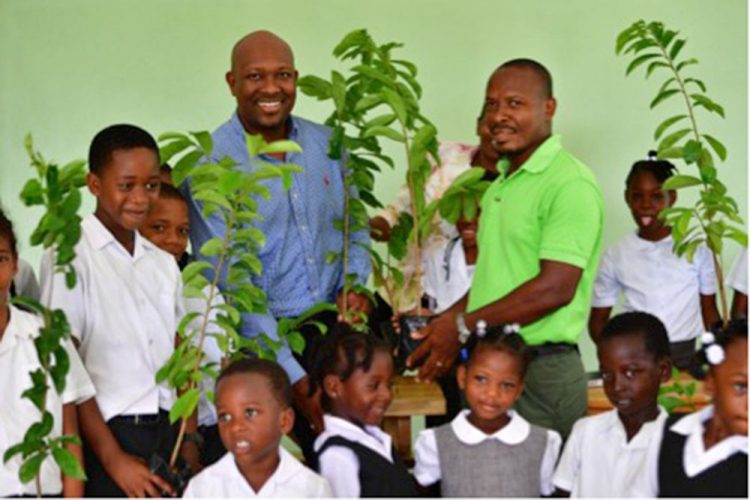 A National Soursop Planting Project, which has as its objective the planting of one million soursop trees throughout the length and breath of the country, is into its third month of operation here.
The project, which is coordinated by the Ministry of Agriculture, in collaboration with the Richmond Vale Academy and the St Vincent and the Grenadines Preservation Fund, was launched on November 9, 2017 at the Diamond Primary School, where the children of that school were given the privilege to plant the first set of soursop trees on their grounds.
In attendance were one of the founders of the St Vincent and the Grenadines Preservation Fund, Louise Mitchell; a representative from the Richmond Vale Academy, Stina Herberg; and Minister of Agriculture, Rural Transformation, Forestry and Fisheries Saboto Caesar.
A release from the Ministry of Agriculture says the project plays a vital role in that Ministry's Agri-export Strategy Initiative, which has been developed to increase agricultural exports.
Louise Mitchell expressed how grateful she was to be a part of this project, while performing an interactive and educational speech to the children; she also donated a book to the school's library, "Wild Life in the Caribbean." Stina Herberg noted how excited she was to play a vital role in the project.
Minister Caesar expressed his gratitude to SVG Preservation Fund for contributing funds to the tune of US$20,000 and the Richmond Vale Academy for contributing the first 6,000 soursop trees.
The Minister indicated that this project would play a vital role in the diversification strategy of St Vincent and the Grenadines. He informed the students that there would be trees available to students who would be interested in planting their very own soursop tree, but it would be done under the supervision of the forestry officers Alexa Brown and Osa Samuel.
He left the children with some encouraging words: "Dream, but dream big; think, but think big. Once you dream, you can achieve it."