Posted on
PM speaks continued strength, growth for NIS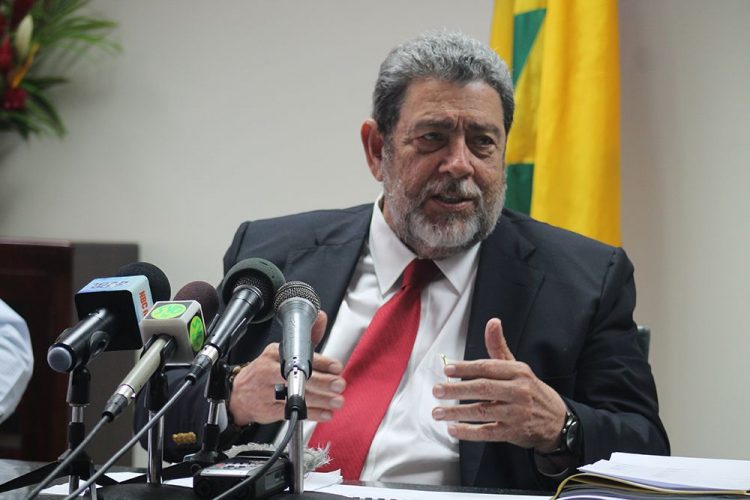 The National Insurance Services (NIS) has grown under the Unity Labour Party (ULP) and continues to grow.
Revealing statistics from the NIS, Prime Minister Dr Ralph Gonsalves on Monday told journalists at Cabinet Room that the NIS is a big and important institution, so the Government must seek to strengthen this entity, despite its continued growth.
He said at the end of 2000, the active registrants at the NIS stood at 32,094, while at the end of 2017 that number was 38,110 persons, an increase of 6,016. The Unity Labour Party (ULP) took over government in April 2001.
The Prime Minister said that a few months ago when he said that more persons were employed now than in 2000, the opposition New Democratic Party (NDP) said that this was not the case, but the data showing the increase is found in the NIS numbers.
Other stats show that in 2000, 1,726 active employers existed and in 2017, there were 2,095 active employers. Self-employed persons rose from 277 in 2000 to 1,092 in 2017. The average annual wages in 2000 was $12,058 (of persons who are registered at the NIS) and that figure was $21,569 in 2017, $9,511 more.
In 2000, there were 2,940 pensioners, increasing to 7,169 in 2017, while total pension payments in 2000 was $6.52 million and in 2016, $50.8 million. Total benefit payments (sickness and disability) was EC$8.47 million in 2000, and up to EC$57.12 million last year.
Prime Minister Gonsalves said on Monday that some persons had complained that businesses were closing, but while that may be the case, businesses had also opened, and that is the nature of free enterprise and capitalism.
Gonsalves said that the ULP administration has done more to strengthen the NIS than the NDP, when they were in power.
He said that the NIS system was introduced in 1987; the Labour Party had brought the NIS bill to the House in 1984, but the elections were called in July and by then, the Bill had had its first reading.
The Bill was introduced in 1987 by the NDP, but between 1984 and when the ULP arrived in office in 2001, the NDP increased the pension once, in 1999.
Gonsalves noted that under his watch, pensions were increased in 2002, 2005, 2008 and 2012 and hinted at it being increased again.
"Let me not prejudice what will happen; the new Minister of Finance (Camillo Gonsalves), will deal with that," said the Prime Minister, who noted that the NIS is 30 years old and he has been Prime Minister for 17 of those 30 years.
He revealed that the NIS now has total assets of EC$509.6 million compared to EC$218.7 million in 2000. Investments in 2000 were EC$209.2 million, while in 2017, they had increased to EC$453.4 million.
"It's a big and important institution…we have to strengthen it further naturally; it's a living organism and as it gets more mature, more challenges will be presented, or additional challenges will be presented, but thus far, so good," said Gonsalves, who said he will speak more about the NIS during his contribution to the budget debate next month.(LC)