Posted on
Colleagues, past students pay tribute to beloved teacher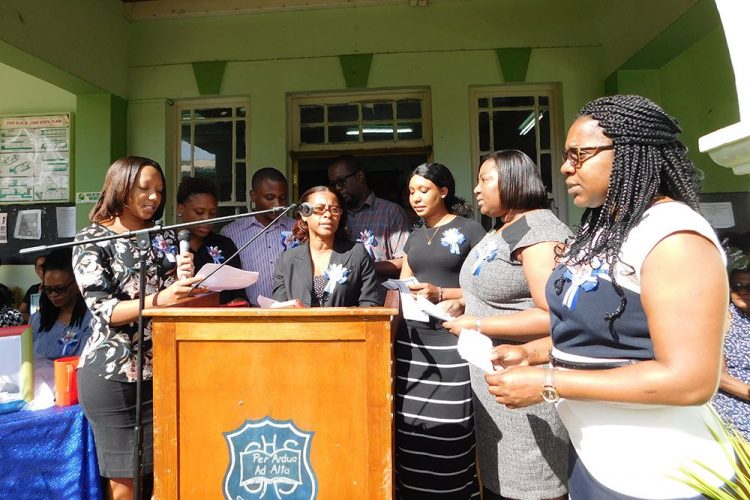 The St Vincent Girls' High School (GHS) last Friday hosted a memorial service for a teacher who had served as the head of the mathematics department and a teacher at the school for 17 years.
One by one, colleagues and past students paid tribute to Gillis 'Jit' Francis and highlighted the essence of his demeanour, style and values.
The service, which befitted Francis' outstanding legacy, was made even more memorable by the beautiful weather and the easy flow of the programme.
Michele Beache, the school's acting headmistress said Francis always held the view that 'bright girls,' such as those who attend the GHS, should not graduate without passes in General Mathematics and English A. She said Francis accomplished an almost 100 per cent pass rate in CXC Math during his tenure.
Deborah Charles, Parliamentary Secretary in the Ministry of Education, in her presentation, said that the dedicated teacher taught at the St Clair Dacon Secondary, the St Joseph's Convent Marriaqua and at the GHS, up to his time of passing.
Many past students, who are now teachers, credited their teaching style to Francis. Tamira Browne expressed her gratitude to him for taking the time to walk around during class to offer one on one help. Kimberly Cambridge described Francis as having a personality that dominated the classroom. Joanne Marshall Thompson said she fondly remembered his shiny head, his long nails and of course his lovely belly, which was met with an outburst of laughter during the solemn moment. Thompson continued that upon visiting him last year at the hospital, Francis was pleased to know that his past students were there for him.
The teachers of the GHS math department praised Francis, who trusted their abilities and who constantly defended them. One of the teachers said, "He would say I would not allow my teachers to be frustrated."
Francis, they said, also empathized with their personal upheavals and made adjustments to schedules, so work was more comfortable. And he was a master storyteller, with a witty humour, giving his fellow teachers nicknames such as: Brother D, Danno, Big Mac, Hen-o, Eddie and Louis.
In poetry, songs, letters and open tributes, the outstanding qualities of the stalwart teacher were echoed time and time again.
A song by a fourth form student with the chorus "I Love You" evoked even more sadness, so much so that after the rendition, heavy hearts could only offer mild applause, even though the performance was outstanding.
Letters of tribute, from Minister of Education and parliamentary representative for Marriaqua Jimmy Prince, as well as communications consultant in the Office of the Prime Minister Elson Crick, were read.
Crick said Francis was a great batsman and middle field player from the Marriaqua Valley.
Francis' widow Eucille Francis and their children Kimone and J'var were honorary guests, seated a short distance from a picture of Francis, which showed him seated at his desk with a slight smile.
The outpouring of praise and sentiments befitted a veteran math teacher, who had inspired hundreds of lives over generations.
Gillis 'Jit' Francis was 68 years old at his passing.(CB)