Posted on
Preparations begin for 'Everything Vincy' Expo 2018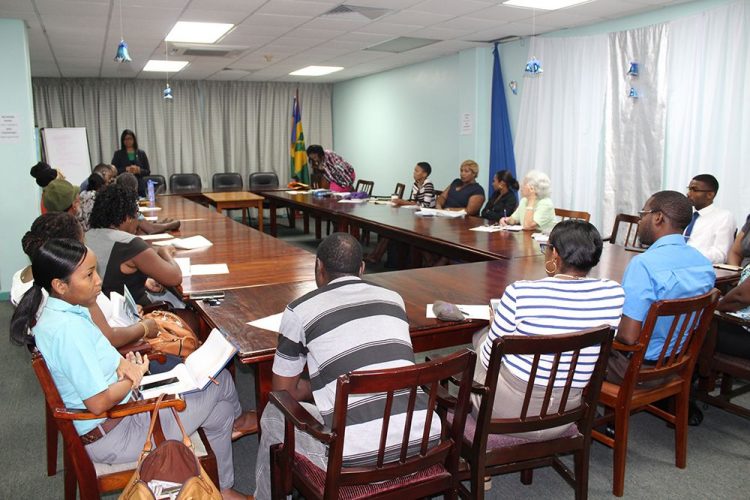 Following the success of the inaugural 'Everything Vincy' Expo, which took place over the Independence weekend last year, Invest SVG has kicked off the new year with preparations for 'Everything Vincy Plus' Expo 2018.
Scheduled to run from October 23 – 28, the exposition promises to be a bigger and more elaborate event, attracting an increased number of local participants – and this year will include regional participants and buyers.
Last Wednesday, January 10, Invest SVG hosted a planning meeting with over 25 Vincentian entrepreneurs – many of whom participated in last year's Expo – to discuss various aspects of the upcoming event to receive feedback and suggestions.
Chaired by Invest SVG's executive director Annette Mark, the meeting focused on the number of participants being catered for, accompanying workshop training for exhibitors, number of local and regional buyers being invited to the event, the formation of an organizational committee (for participants), and the launching of a 'Buy Local' campaign.
During the feedback session, attendees brought up various concerns and issues such as: need for a permanent site to display Vincentian products and services, marketing strategies, and assistance with bulk purchasing from China and other overseas wholesale suppliers.
Other raised topics were costing/pricing assistance, how local entrepreneurs can more effectively target visiting tourists (particularly during cruise ship season), and effective/sustainable clustering of local businesses – among others.
The 'Everything Vincy' Independence Expo 2017 took place from October 27 – 29 at the ET Joshua Airport in Arnos Vale and was designed to increase the visibility of local businesses – as well as being a call-to-action for Vincentian innovators.
Participants in last year's Expo were: Richmond Vale Academy, Little Nut Farm, Great Head Farms, Eastern Caribbean Group of Companies, Grow In Time, SVG Network of Rural Women Producers, Camcakes Catering, VINC, Afrobbean, Chillin' (restaurant), Rene's Ornamentations, Cherry's Plus, Escape Health and Day Spa, Nzimbu Arts and Crafts, Immense Bags, Olive Art Designs, Tubb's Arts and Crafts, Brio Che, Pringa's Natural Flavour, Abb & Ann's Creations, Melissa Kreations, LinkUp, L.A Unique Upholstery, Brand SVG, Aurora's, Gibson's, Cyrus Snacks, Penelope's Wines, Sardo SCS, The Classic Cake Gallery, Me-Shelli Unique, Una's Legacy, Alpha Design, Frisko, UD's Enterprise, East Caribbean Metals, Jazzy All Natural, Fanfare, Kendra's Aluminium Products, and 'Just Teez' by Nikki.
There was also a two-day training workshop attached to last year's Expo, which took place on October 24 and 25, 2017.