Posted on
Yanagil education trust fund targets projects to improve communities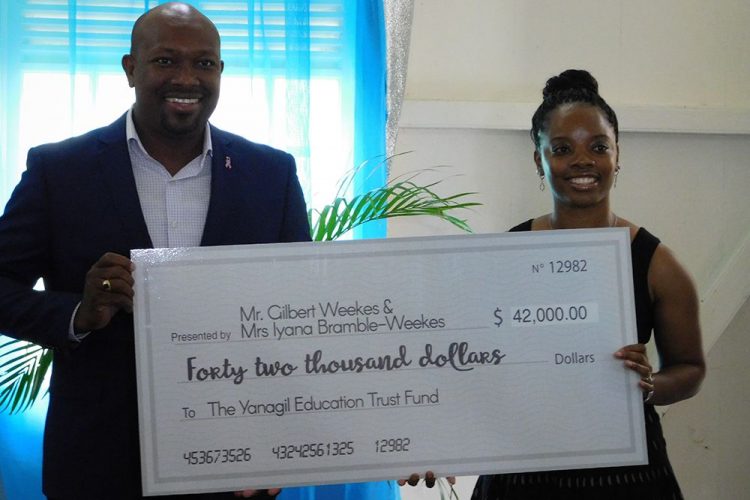 The Yanagil Education and Development Fund Inc, a social development fund, was launched on December 29, 2017, at the Curator's House at the Botanic Gardens.
The Fund was established by Canadian residents Gilbert and Iyana Bramble-Weekes.
Director of Yanagil Louise Mitchell explained that the new fund intends to follow through with the 17 development goals of the United Nations, one of which is better education.
"It was set up to address the 17 development goals, which starts with education and also goes as wide as environmental protection and communities preserving heritage – preserving culture. It even goes as far as addressing, the reduction of crime," Mitchell said.
Founder Gilbert Weekes explained that he and his wife, Iyana, first brainstormed ways to develop their homeland, after the December 2013 flash floods.
Mitchell said it is the desire of the Fund that all projects enhance communities.
"We will like to support projects which will enhance the entire community. Yes, we will help individuals, but we will help individuals only where helping them would in turn help entire communities. And if we are helping any individual business person, we would want them to in turn pledge to give back to the fund…," Mitchell said.
During the launch, the Weekes handed over EC$42,000 of their earnings to the Fund, and pledged to provide money each year.
"My wife and I will give $25,000 Canadian each year and I will raise as much as I can from other individuals," said Weekes."
The Weekes intend that by 2020, the Fund would be self sustaining, based on their contribution of $100,000 Canadian dollars.
Nashaca Jacobs, the Fund's first recipient, received $1,000 for selflessly visiting students at their homes to help them with their homework. Sylvester Douglas accepted the award on her behalf.
The Fund's three directors are Louise Mitchell, Gilbert Weekes and Philmore Allen.
Committee members who have been tasked with sourcing projects are Donnie Collins, Ajit Duncan, Crystal Francis and Valdo Anderson.(CB)