Posted on
Miss Claus 2017 eyes Miss SVG crown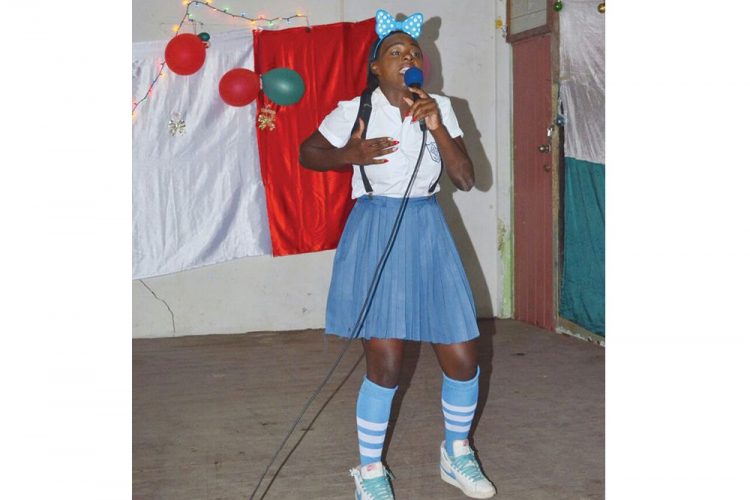 It may be some way off for 13-year-old K-tonya Peters, but she has eyes set on winning the Miss SVG Beauty Pageant.
On December 25, at the Old Greiggs School, Peters was crowned Miss Claus 2017, beating the other three contestants to win the inaugural title, in a show organized jointly by the Sea Operations Nar Fren Dem Sports Club and the Greiggs Sports & Cultural Organization.
On her way to taking the title, Peters, who was sponsored by Caesar's Real Estate, copped the categories of Best Evening Wear and Best Sportswear.
"I was a bit surprised that I won, because I had messed up in the interview part, but in the end it is a great feeling of joy that I came first," Peters said, days after claiming her third beauty pageant title.
Peters, in 2012, as a pupil of the Belair Government School, won the title of Easter Princess and in that same year, was crowned Miss SVG Princess.
In her most recent success, Peters noted that she had a good team, which consisted of her chaperone – Kimberley Benn and her mother – Rhea Peters.
Benn is a former winner of the Miss P'tani title and her mother Rhea, Miss Big and Beautiful.
But for Miss Claus 2017, the Miss SVG show is her ultimate goal locally.
"I see myself participating in Miss SVG and hopefully win as well," K-tonya shared.
A second form student of the Bishop's College Kingstown, K-tonya is also a member of the St Vincent and the Grenadines Cadet Force.
Second to Peters on the night was Elisha Matthias – Miss J'Ouvert in January. Matthias was first in the Best Talent and Best Interview segments.
Also pouched by Matthias was the award for being the Most Photogenic.
The other delegates in Miss Claus 2017 were Deantai Davis – Miss Rodney's Trucking and Macey DE Shong – Miss G Lil Investment.
Davis copped the award of Miss Community Spirited and De Shong – Miss Congeniality.
Organizers had to readjust, after the two other contestants, Shazean Matthias – Miss Sea Operations and Zoneh Seymour – Miss Jarplum, gave late notice of their non-participation.(RT)