Posted on
FLOW generosity continues to change lives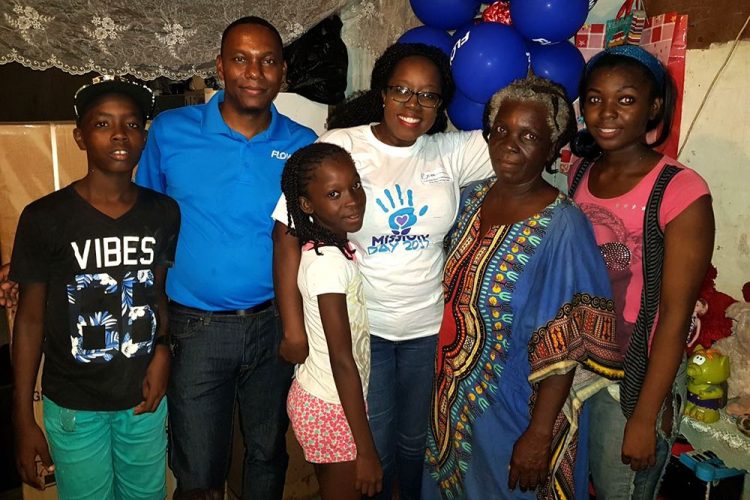 Transforming and connecting the lives of people across the country continues to be a priority for telecommunications giant Flow.
This Christmas season, two families are all smiles, being the recipients of the grand prize, the Mega Life Makeover.
Sharing the Christmas cheer and further enforcing the true meaning of the season, the Flow team first journeyed to Belair to surprise Elsa Jackson, who, according to her daughter Romeisha Jackson, became a market vendor to support her family.
Nevertheless, Jackson was described as a relentless individual, whose priority was to ensure a happy life for her family, which, according to her daughter, came with the price of countless sacrifices.
With the assistance of her daughter, the Flow team was able to surprise Jackson.
After realizing what was taking place, she became uncontrollably emotional, and was not short of words to express her gratitude.
Jackson stated that the household appliances, along with the $500 worth of groceries and free telecommunications services will significantly lift the standard of living of her family.
Traversing further out to the windward side of the country, the Flow team braved the barking dogs at the residence of Narissa Smart, who resides in the community of Sans Souci.
She was nominated by her daughter Godwina Joseph, who described her mother as a determined and hard-working individual.
She represented her mother as one who, despite financial hardship, was able to ensure that her children received a quality education.
Listening to what her daughter wrote to describe her character, an emotional Smart agreed that her family was not fortunate, but the welfare of her children was always her priority.
In her attempts to provide a more comfortable home for her family, she drew the attention of country manager Wayne Hull to an unfinished concrete structure, which she admitted she had started all on her own, as she could not afford to pay the labour cost to complete it.
To make the lives of the Smart family more comfortable, the Flow team donated household appliances – a television, stove, fridge and $500 worth of groceries, and free telecommunication services for a year.
The company's Christmas grand prize, the Mega Life Makeover, was announced some three weeks prior, and within that time, over 250 nominations were received from all over the country. The Flow team noted that it was a worthwhile venture to positively impact the lives of two families, while helping to raise the standard and quality of their lives.