Posted on
Da Silva wins again!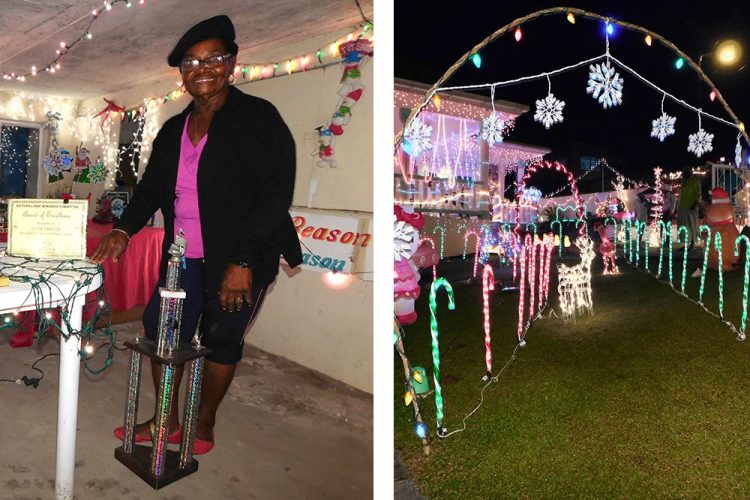 When it is nice, you do it twice, or in the case of Olivia Da Silva of Cane End, the winner of the Best Lit Private House award, seven times.
Da Silva, whose 2017 theme 'Ascending heights to see Jesus the Light' truly took her Christmas light display up a notch, copped the title for the third consecutive year, while Jimmy Samuel of Rilland Hill, a usually good contender, had to settle for second place. Glenroy Prescott of Frenches and Anne Jones of Questelles tied for third in the category. In fifth place, there was a three-way tie between Yvonne Robinson of Redemption Sharpes, Christopher Trumpet of Fitz-Hughes and Nicolette Ballantyne of Sandy Bay.
The Best Lit Garden award went to the historic Botanic Gardens, which outshone the competition in the number of displays and groundspace. The second best lit garden was the Richmond Hill Gardens and third was the Ces fo Wes Gardens.
In the VINLEC Nine Mornings Community Lighting Competition, in which communities throughout the nation competed in five zones, deputy chair of the Nine Mornings Committee Lennox Bowman described this year's competition as one of close judging.
In Zone One, first was Rose Bank; second, Rose Hall; Troumaca was third and Coulls Hill was in fourth place.
In Zone Two, Belvedere copped first place; Town Hill was second; and Sion Hill third, while Questelles Square was fourth.
In Zone Three, Cotton Ground regained first place, second was Richland Park, third was Stubbs, with Brighton placing fourth.
In Zone Four, Point Village was first; Owia, second, with Lauders and Diamond tying for third.
In Zone Five, the Grenadines, Paget Farm was first, Jenson Square second, Mt Pleasant, Bequia third and Friendship Square, fourth.
The award for the overall Best Lit Community was snatched by Point Village; second, third and fourth places respectively went to Rose Bank, Belvedere and both Rose Hall and Town Hill.
Bowman asked the public to visit the displays of the overall winners, as they all were well deserved.(CB)