Posted on
Starlift celebrates 50 years in style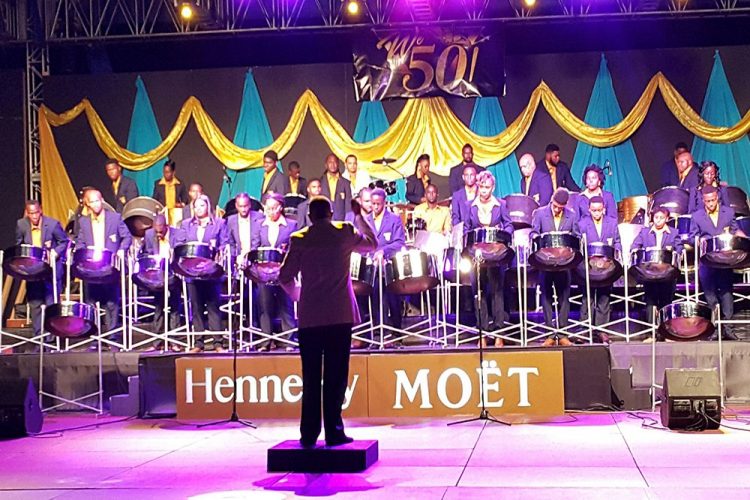 The Starlift Steel Orchestra showed last Saturday night why a 50th anniversary is called golden.
The steel orchestra, founded in 1967, held a concert over the weekend at the Michael Findlay Pavilion at the Arnos Vale Sporting Complex, to mark their golden anniversary.
Dubbed, "Celebratory Concert," the event saw the band's junior and senior groups exhibiting their skills by playing songs from all genres.
The programme started with the Starlift seniors teaming up with the New Kingstown Chorale, Cantemus and Sean Sutherland (on piano) in a masterfully rendered opening piece, "The Lord's My Shepherd," much to the pleasure of the gathering.
That number was followed by songs like Lionel Ritchie's "All night long", Mighty Sparrow's "Sa Sa Yea", "This island is mine" by Skinny Fabulous and Frederic Chopin's "Minute Waltz".
Guest performers included the New Kingstown Chorale, Cantemus, Sean Sutherland, Arabesque Dancers, Pennola Ross and Duvonne Stewart, who stole the show with a solo on the tenor pan.
Foundation members of the orchestra, including Simeon 'Spitter' Antrobus, Teddy 'Mice' Johnson, Hugh 'Paddy' Williams, Gideon 'Socks' DaSilva and Walton 'Tanny' Peters (the orchestra's first tuner, arranger and inspiration) were honoured at the event.
Earl 'Sardo' Sutherland, Bertram 'Tom' Maule, and Vernon Coombs, one of the band's early arrangers and conductors were also honoured.
This year has been an exceptional one for Starlift, as in addition to attaining their 50th anniversary, the orchestra claimed its 22nd Panorama title during the annual Panorama competition, which was held as part of the 40th anniversary of Vincy Mas.
The orchestra, which has as its captain Roddy Dowers, usually boasts of being the entity with the most wins of any steel orchestra in the world.
Other persons associated with Starlift include Kingsley "Hero" Roberts (arranger/conductor) and Duvonne Stewart and Dante Pantin, who are arrangers. The orchestra was founded in 1967 in the Old Montrose/New Montrose area.