Posted on
Rubis brings Christmas joy to the needy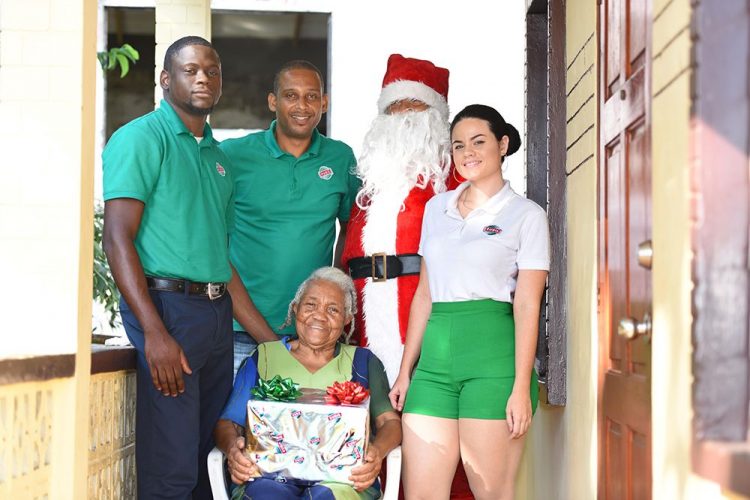 Twenty-five persons across St Vincent and the Grenadines (SVG) have received early Christmas presents compliments Gas and LPG Company Rubis SVG.
Rubis SVG has for the fourth consecutive year donated food baskets to the elderly and marginalized persons living in the various communities across SVG. Beginning last Monday, employees of the company began distributing the food baskets, which consisted of food and household items.
The donation forms part of the company's community outreach programme and the initiative came in for very high praise from persons within the communities and recipients alike.
"I am very thankful for the donation and God bless Rubis," said recipient 78-year-old Carmel John, of Green Hill.
Ollivet Haywood, a shut-in from Lower Questelles, also expressed her gratitude. "Thank you and am very appreciative of the gift."
Rubis collaborated with the Ministry of National Mobilization and Social Development and agencies within the various communities of SVG, in an effort to identify those in need of the donations.
Account executive and country representative of Rubis SVG Elroy Edwards said that since the company was launched five years ago, it has been successful and he noted that this success is due in part to Vincentians utilizing their products and services.
"Contributing to our success is the Vincentian community and this is just one way of us giving back as a good corporate citizen," said Edwards, who has been with the company since its inception here.
Edwards said the initiative seeks to touch the lives of the poor and elderly. "Christmas is a time of joy, giving, and goodwill and we are just spreading the joy of Christmas," declared the Rubis country representative.
Santa Claus was also on hand to bring joy to the communities that were touched by Rubis' generosity and despite Santa being associated with kids, one elderly lady expressed how overwhelmed she was to see the joyous figure.