Posted on
Rose Place children treated to early Christmas party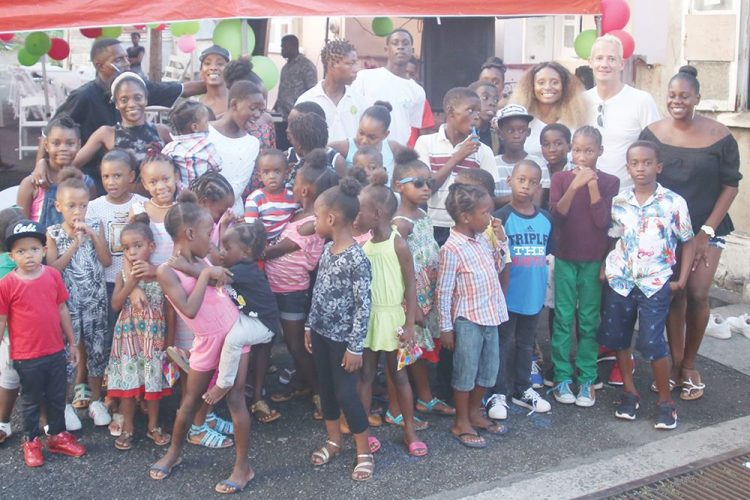 Christmas came early to the children living at Rose Place, Kingstown on Sunday, as they were treated to a Christmas street party, complete with an early visit from Santa!
Over 50 children from the community between one and 16 years old joined in the celebrations and enjoyed an afternoon of fun and surprises.
The party was organized by The Cicada Foundation, a charitable group founded by designer and performer Eniye Kagbala and Digicel SVG country manager John Davies, with support from Digicel brand ambassador Casper "DJ Ice Kole" John and music from Nu koncep.
Kagbala commented: "We set up The Cicada Foundation as a charity to empower all communities across St Vincent and the Grenadines and individuals to be at their best and give their best. We're trying to help people find their creativity and unleash their inner potential."  Davies said, "It's the simple, smaller things that make the biggest difference. Seeing the Bottom Town (Rose Place) community come together on Sunday afternoon was a true reflection of the real spirit of Christmas. It is our mission to do many more community events that allow people to express themselves, have fun and support each other."
A delicious Christmas meal was prepared by Adrien Gordon for all the children and parents, and to cap off the afternoon, Santa arrived with Christmas gifts for all the children. 
Adrien's daughter, Keneisha Gordon, was the community ambassador who worked along with The Cicada Foundation to organize the event. Granddaughter of Gordon, Kahlia Gordon displayed her creativity and talent by leading the karaoke singing.