Posted on
Jonneil Stowe comes out on top in Courts OECS Reading Competition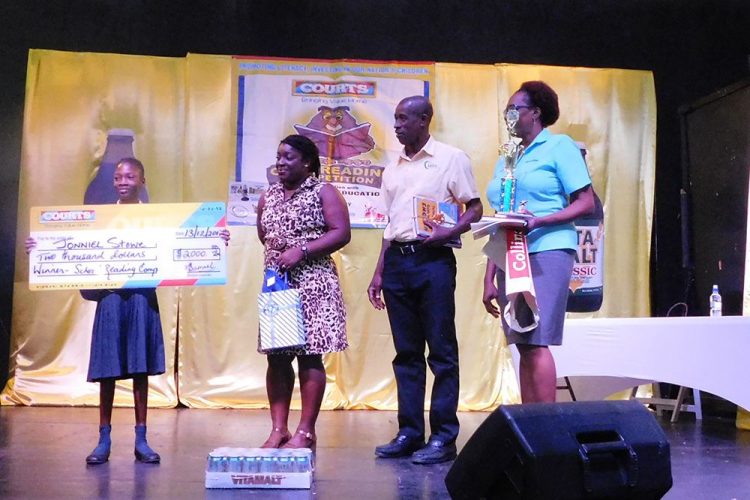 The finals of the ninth Courts OECS Reading Competition ended last Wednesday with outstanding reading skills exhibited by participating students.
The winner among the seven competitors was Jonneil Stowe of the Lodge Village Government School.
The judges felt that even though seven pupils competed, they had all proven themselves to be effective readers.
"We enjoyed your presentations. We were able to visualise your stories and all of our students were confident. They projected themselves well. They were aware of the audience and most decoded well," said Albina Jack, on behalf of the judges.
Participants competed in two segments. The first was to read a narrative and the other a news article, which none of the students had viewed prior to the competition.
This year, for the first time, there were four male competitors, with two placing in the top three.
Second place was awarded to Ethan Balcombe of St Mary's Roman Catholic School, who also claimed best in reading the news article segment. Third place went to Christian Joseph, a student of the Kingstown Preparatory School.
The award for the best narrative segment went to Jonneil Stowe.
Senior education officer Aldia Gumbs Dyer asked the students to share the benefits of reading with others.
"Remind them that reading increases knowledge and the more knowledge you have, the better equipped you are to face life's challenges," Dyer said.
Courts commercial officer Lisa Veira said that these competitions can truly help the children to improve, since the 2016 winner, Kaylee Robertson, was a timid reader, but improved and went on to place third in the regional competition.
Kaylee, in brief remarks said that reading had truly allowed her to go to far reaching places.
"…I island hopped to St Kitts for the regional competition. There I met students from across the OECS. …there is a famous quote by Dr Seuss that says, the more you read the more things you know, the more that you learn, the more places you go," Kaylee said.
Senior manager at Courts Michele Samuel explained that the finals of the event were originally scheduled for September; however, owing to the devastation caused in the region by category five hurricanes to some of the countries where they have branches, the event was postponed to focus on assisting those countries. Nevertheless, she was happy the event came off, since impacting the community is part of Courts' core values.
"For social development we carry out programmes, focused on education, as well as programmes that contribute to community development, related to infrastructure and health," Samuel said.
The winner, Jonneil Stowe, walked away with EC$2,000 for her school, the Lodge Village Government, as well as a trophy; a Kindle HD Fire from SEARCHLIGHT; books from Jujube bookstore; a cell phone from Flow; a gift certificate from LG Sales; and a case of malt from St Vincent Brewery Ltd.
She will also read a news segment on SVGTV. Stowe is expected to represent St Vincent and the Grenadines in the regional competition.
Second place winner, Ethan Balcombe, received a trophy, EC$750, a case of soft drinks, a gift certificate from LG Sales, books from Jujube bookstore and he will read the news segment on NBC Radio.
Third place winner, Christian Joseph, won a trophy, EC$500, a gift certificate from LG Sales, books from Jujube bookstore and a case of soft drinks. He will read a news segment on WE FM.
All participants received certificates of participation; consolation prizes; books from Jujube bookstore; and a case of drinks from Hairoun Brewery Ltd.
The other participants were: Katelyn Bobb, J' Tshi Yon Simmons, Shaya Weeks and Kent Cain Jr.(CB)