Posted on
Engineering marvel in Bequia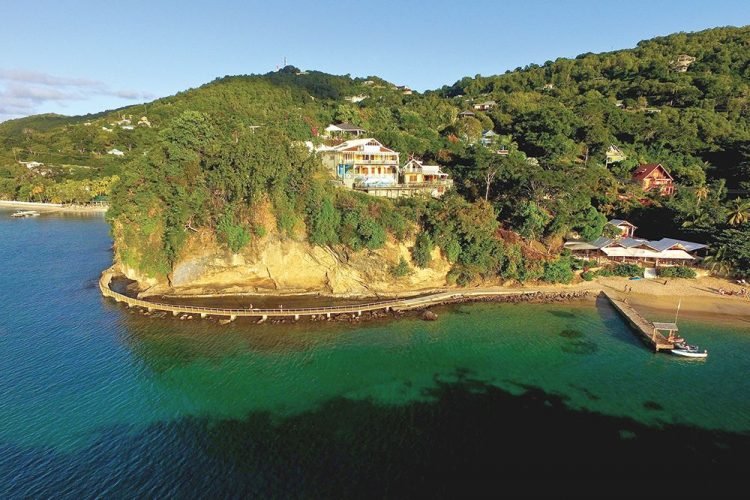 On Tuesday, December 12, a new 385-foot pedestrian trail that goes around the Point between the Plantation and Princess Margaret Beaches in Bequia was opened.
This structure replaces a previous trail that was severely damaged by massive surges that resulted from Hurricane Mathew in 2016.
A 100-foot solid concrete promontory from Princess Margaret Beach was funded and constructed by a Bequia Beach Hotel team. The 285-foot over water section was funded by Action Bequia, a non-governmental group and designed and built by in-water structures specialist, Sea Operations SVG Limited.
The design concept was one focused on withstanding the extreme storms that nature periodically throws at our islands. Fifteen in-water concrete piers firmly secured to the seabed are designed and built to offer minimum resistance to surges. Sixteen elevated timber "bridges" span these piers to the landside promontories at each end of the in-water section. The resultant walkway is three and a half feet above high tide levels. Safety is enhanced by a hand rail on one side and a white edge marker on the other. 
Of course, even with these attributes, the trail will be pounded when hurricane level storms are in the Southern Caribbean, but it is felt by the experts that damage will be largely to some of the easily repaired timber spans and not to the concrete piers.
Work started at the end of September, with the ambitious goal of finishing by December 15. As project manager for Action Bequia, Michael Connell commented: "The team at Sea Ops has been phenomenal. From chief executive Sado Sutherland, the onsite managers Steven and Eviton, team leader Faun, Kenlyn, Lester, Sulaayman, Xavier, John, Patrick and Travis, they have all worked exceptionally hard. We thought that a schedule slippage was likely, but instead they finished ahead of schedule and, with no compromise on the quality of their workmanship."
David Harper, Action Bequia's CEO, added "We also owe many thanks to those who provided vital funding.  Bequia Beach Hotel and Grenadines Partnership Fund were the biggest financial supporters, but many others provided critical contributions, and all these supporters are recognized on our website, www.actionbequia.org".
The Belmont Walkway and its connection to Princess Margaret Beach has seen considerable restoration in recent years, thanks to the commitment of Action Bequia to its revitalization.  In 2012/3, they funded and managed the repair of the Belmont Walkway, which had become dangerous and virtually impassable in some sections, due to the damage from repeated ground seas and storms. 
Between 2013 to 2016, Action Bequia built a coastal trail and walkway that enabled unbroken pedestrian access from Port Elizabeth to Lower Bay and restored a centuries-old connection. 
Action Bequia has also completed a Harbour Beautification project, organized mosquito eradication clean-ups, and started a recycling programmes which, amongst other achievements, sent 60,000 plastic bottles for recycling in the last nine months. In addition, they have provided and continue to provide some level of financial support for more than 50 community initiatives led and organized by other Bequia groups.