Posted on
29 All Saints medical students don white coats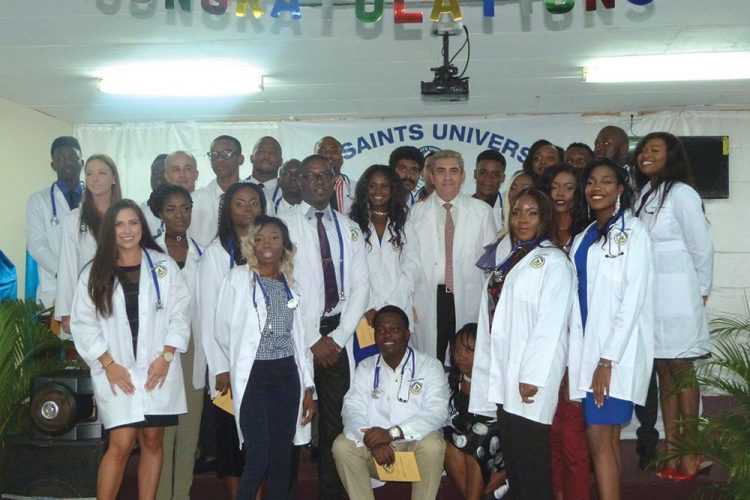 The 16th white coat ceremony of the All Saints University School of Medicine saw 29 students donning a short white doctor's coat as a symbol of the end of premedical training and the start of their clinical training.
The ceremony, which took place last Saturday December 9, at the All Saints Campus at Arnos Vale, was attended by many dignitaries, including Minister of Agriculture Saboto Caesar, Minister of Tourism Cecil Mckie and Permanent Secretary in the Ministry of Health Cuthbert Knights.
Also giving their congratulations were the parents and friends of the white coat recipients and the faculty of the All Saints University.
While their journey to becoming doctors is in one sense just beginning, in another sense the students have already come a long way.
Representative of the class, John Okie, recalling when he first came to St Vincent and the Grenadines (SVG) said: "I remember before my arrival on this island, I was so nervous because it was my first time in a foreign land. However, I set my goals and one of my goals was to become the best student…and by God's grace here I am today."
He divulged that the journey to achieve the goal of the white coat was not always easy, but that his family, though far away, kept him going.
"When I feel discouraged and overwhelmed with school work, I just remember my siblings back home; they are looking up to me and I can't disappoint them. I also remember my family and friends and everything they sacrificed for me just to be here and I just immediately get back on my feet and continue," Okie said.
He also encouraged his fellow white coat recipients.
"To my fellow white coat recipients, we have reached a milestone in our process to become medical doctors. We can't give up now. It's not the end of the tunnel for us; we have come this far."
He also thanked his parents, family, faculty of the university, each of his friends particularly named and the people of SVG, saying, "A very big thank you to the good people of St Vincent and the Grenadines for their love and support."
The Government representatives who spoke at the ceremony had nothing but gratitude and support for the students and the university.
"I go to the supermarket…and I see the smiles…as the Minister of Agriculture and Fisheries, I want to thank you on behalf of the farmers and fisher folk..they are seeing your increased support," Minister of Agriculture Saboto Caesar said.
Pledging his continued support to the institution, area representative and Minister of Tourism Cecil Mckie said, "I want to commit this evening to continue to work with All Saints University and that to the students that come here year after year."
Inasmuch as the recipients were celebrating their achievement, they were also bestowed with great responsibility along with their coat.
Dean Terrance Marcelle said, "we ask you to honour the trust that these patients will soon put in your hands, as you listen with real concern and humanity and to honour the dignity and the emotional life of each and every patient."
"So, today you have before you, a choice to make that will define not only the lives of your patients, but your own lives as well, and that is whether to become a data driven physician, in the sense of someone who studies the charts, rather than listens to the patient, or to devote the time that technology saves you in order to become a better ally to someone who needs you help," cautioned Dr Wisam Al-Hafidh, faculty representative.
Dr Priyadarshani Ramsamooj, a graduate of the university, said although the coats they were about to don were very white, "however, know that as you continue on this journey these very white coats will be stained; they'll be stained with sweat, blood, yeah, that sometimes, and tears," she said.
"So, as you don them today and you are coated by our faculty members, I urge each of you to don respect, compassion, to continue with empathy, with love and most of all with humility."(KR)