Posted on
Teachers receive training in CPR, First Aid from Trinity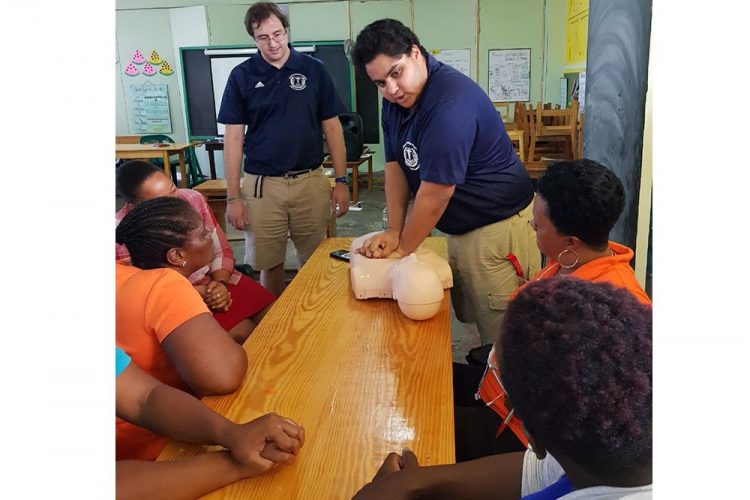 Thirty primary school teachers have been trained in cardiopulmonary resuscitation (CPR) and First Aid by students of the Trinity chapter of the Society of Medicine and Surgery (SMS).
The teachers, from the Langley Park Government and Dickson Methodist Schools in Georgetown, were trained on Friday, November 24, by five members of the SMS, led by president Michael Seiferth. Vivian Hazzard, a trained nurse, accompanied them.
The segments included: what is CPR; responding to a choking victim; responding to someone suffering from an asthma attack; assisting someone who is having a seizure; treatment of broken bones; treatment of minor and deep cuts; treatment of bee stings and insect bites; and treatment of heat exhaustion and heat shock.
During the practical session, there were demonstrations on how to perform CPR; how to splint a broken bone and bandage a deep wound; and how to assess a choking victim. The teachers then practised the procedures on each other. They also had a chance to practise CPR on an adult mannequin and an infant mannequin, under the medical students' supervision and direction.
While there were many laughs shared between those learning and those volunteering, the overall atmosphere was one of deep respect. The teachers felt grateful that they were learning skills that could potentially save someone's life, in the classroom, within the family setting or elsewhere in the community.
Nurse Vivian Hazzard expressed pleasure in her participation. "The overall reception by the principal and teachers was professional and warm. The group exhibited verbally and by demonstration, their comprehension of the material and ability to apply the information," she reported.
Another SMS member, Caleb Ackerman, added his take with, "I was glad we were able to help the teachers in Georgetown. It appeared they had never received any sort of instruction on First Aid before, so they should be able to benefit from the knowledge. They were eager to learn and it was encouraging to see, as a result, that the principal was planning on purchasing First Aid equipment for her school."
Equally important, student Spencer Allen, acknowledged, "It was a nice opportunity for me to give back to the island by sharing some of my skills and experiences."
By the same token, president of SMS Michael Seiferth looked at the advantage of being afforded such an opportunity as a student of Trinity.
"By allowing students to get out of the classroom and away from the campus setting," he affirmed, "Trinity provides practical use of the knowledge learned at school and allows us to pass this knowledge on. It also opens an avenue to foster a strong relationship with an underserved area in St Vincent that could lead to providing more teaching, training, and volunteering in the future."
The Trinity Society of Medicine and Surgery will continue with similar outreaches in the New Year.