Posted on
SVG to experience faster Internet services via IXP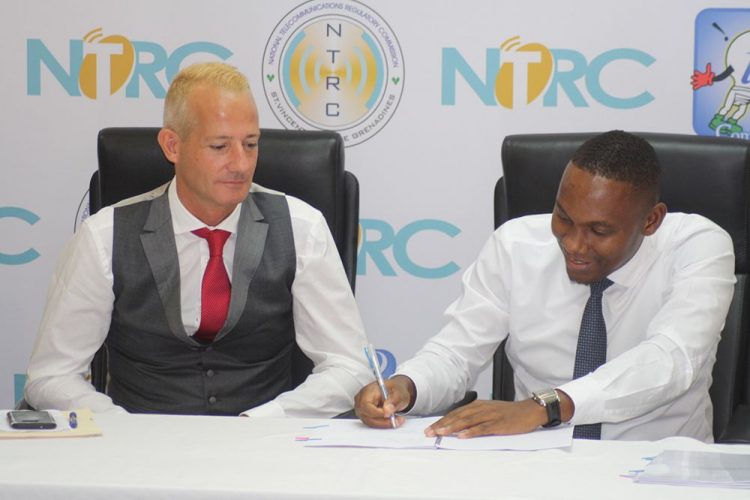 This country now officially has its own Internet Exchange Point (IXP), one of only 300 such set-ups in the world.
An IXP is a physical network access point, through which major network providers connect their networks and exchange traffic. IXPs allow for, among other things, high speed data transfer, a reduction in latency, while also improving bandwidth.
And, according to director of the National Telecommunications Regulatory Commission (NTRC) Apollo Knights, the introduction of an IXP into the local telecommunications mix points to only rewards for the country.
"Today is a very important point in the process of trying to improve the Internet experience in St Vincent and the Grenadines," Knights commented on November 30, during the signing ceremony that officially introduced the IXP to the public.
The ceremony was held at the NTRC's conference room in the National Insurance Services (NIS) building on Upper Bay Street and saw country manager of FLOW Wayne Hull and country manager of Digicel John Davies signing on to the IXP.
Knights said it was not an easy process getting the IXP up and running, as the process started in 2013 and he thought that it would have been finished in six months.
"But as you are well aware that when you have players like Digicel, Cable & Wireless and Columbus working together, it takes a little longer than normal…," said Knights, who added that it is not very often these companies collaborate to get something done.  
He said the project involved collaborating and working together and it was funded by the World Bank to the tune of EC$100,000, under the Caribbean Regional Communication Infrastructure Program (CARSIP).
Knights pointed out that the IXP reduces latency for certain types of Internet traffic and a reduction in latency makes the Internet faster.
"It is more or less trying to make the Internet better for the public sector, as well as residential consumers," said Knights.
Local company Mavcom installed the IXP equipment, after winning a bid that also involved providing the equipment (servers and software among other things).
Knights said normally, to get Internet traffic between two networks, for example Cable & Wireless and Karib Cable, the traffic went out of SVG and returned, but with the introduction of our own IXP, the traffic remains in the country and this will now allow for the exchange of traffic on a local level.
He said that sending traffic back and forth increases costs and creates other issues, so having our own IXP is a boost. The equipment is installed at Arnos Vale at the landing station for the main sub-sea cable that comes into SVG.
Speaking at the signing, country manager of FLOW Wayne Hull said that the IXP is great for SVG, as there are only 300 IXPs in the world.
"So, for us as a small island developing state with just 100,000 people, I think that this is a great step for us," said Hull, who added that FLOW signing on to the IXP shows that the company is committed to its success.
Also commenting, country manager of Digicel John Davies said customer experience is at the heart of business and an IXP allows for better customer experience. Davies said the IXP is important, as there is an explosion of data traffic in SVG.
Manager of the IXP Haniff Sutherland said that in SVG, we have about 109,895 persons, of which 65,984 are Internet users.
He said that we have a 60 per cent penetration rate and while SVG has seen a notable growth in this regard, there are still areas for improvement, notably where customer experience and forces for driving the digital economy come into play.
Sutherland said that the IXP means that we can have benefits that can lead to a more developed e-society, which means that a citizen does not need to come into a government office to do business, but can instead do it over the Internet.
The local IXP set up was aided by Packet Clearing House, a non-profit entity created to support IXPs.(LC)