Posted on
Idea Generation Session explores ways to tackle climate change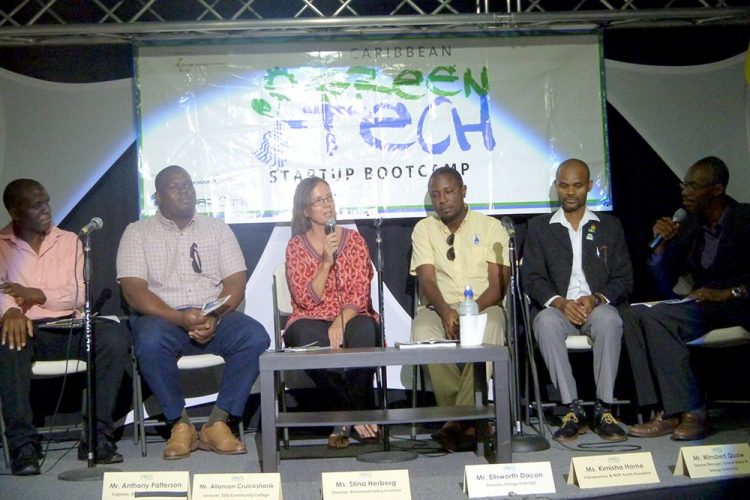 Young persons were schooled by experts on the problems being caused by climate change and possible business solutions and gaps created because of it, at an 'Idea Generation Session' hosted on the topic this Tuesday.
The Caribbean Climate Innovation Centre (CICC), in conjunction with Caribbean Solutions Inc (CSI), hosted an Idea Generation Session last week, as a precursor to a Caribbean Greentech Start-up Bootcamp.
The session took place at the Harvest Conference Centre in Arnos Vale and was attended by contingents from various institutions, including the Kingstown, Georgetown and Campden Park Technical Institutes, and the St Vincent and the Grenadines Community College.
A panel of experts spoke on climate change and areas that could use the attention of a good business idea to help deal with the problem. The session facilitated participation in the bootcamp, which ran from November 30 to December 2, and saw business ideas being pitched by participants and prizes given to those with the most innovative ideas.
At the session, Carlington Burrel, project manager of the CICC, spoke on their hope for the session.
"I fervently believe that this 'ideation' session is going to lead to finding the next great idea which is going to solve a particular problem or to start a new business that is going to change the climate, economic and social landscape of St Vincent.
Permanent Secretary in the Ministry of National Mobilization Nerissa Gittens-McMillan said it was an important opportunity and especially so, considering the year the region had on the climate front.
"Whereas it took Irma days to achieve her maximum strength, Maria managed in hours. If anyone was able to look at the devastation in our sister isles without a knot in our stomach, they are either made of stronger stuff than I or they have simply not been paying attention," further saying, "we cannot wait for somebody else to solve this problem."
To the persons who attended the session, she stated, "You have the means, imagination, the motive and now the opportunity given to you…the future is in your hands."
Experts on the panel included Stina Herberg, director at the Richmond Valley Institute; Anthony Patterson, mechanical engineer; Allanson Cruickshank, lecturer at the SVG Community College and Winsbert Quow, general manager of the Solid Waste Management Unit.
The four suggested ideas and concepts for the participants to consider. Cruickshank, speaking on recycling, asked them to consider creating a product where the end product did not have to be waste.
"We must think of closing the loop. If you're building something…it shouldn't just end with a waste project," he says.
Patterson suggested that they consider an idea of self-reliance, as it relates to power generation.
"There are persons right now … in Puerto Rico, in Antigua and Dominica who will not have power until next year; they have to wait for months and months…you'll have to think now if I was in that situation how would I be able to meet my electricity needs."
Quow opined that the true consideration should be innovations which change the mindset of people, "I wanna challenge the people who are a part of this thing to come up with an innovation that can get Vincentians to live out their pledge in the national anthem." He continued, "An innovation could be some song…we know there are songs that change the world that you can develop."
Herberg, in speaking on agribusiness, encouraged them to think about organic possibilities.
"I think within terms of agribusiness for those of you who are interested in health, find out how you can get on board doing something organic."
She continued, "A product that can sell that is very healthy, it's moving a lot forward."
Those who took part in the bootcamp were expected to use the information provided by the panellists to come up with viable business ideas, which they pitched over the weekend. The first place idea received US$1,000, the second place US$500 and the third place US$250.(KR)