Posted on
Robertson, Reid do it for Stubbs Government School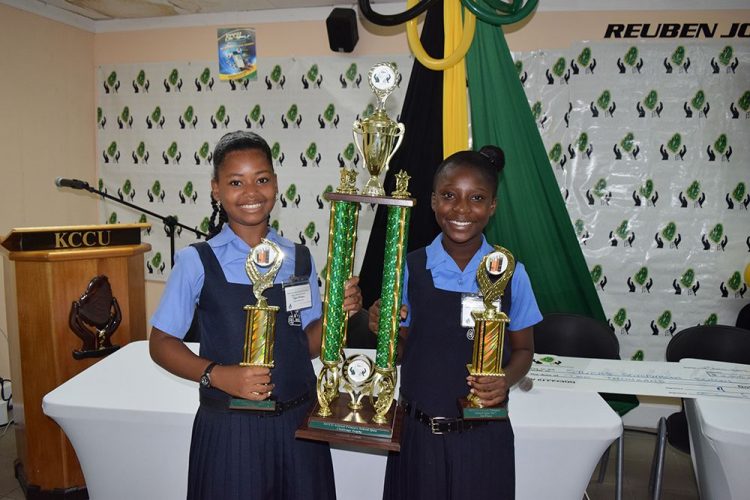 Kaylee Robertson and Kayla Reid are the winners of the 2017 Kingstown Co-operative Credit Union (KCCU) Primary Schools' Quiz Competition.
The girls represented the Stubbs Government School at the quiz, which took place last Saturday at the Reuben John Development Centre at the KCCU.
Robertson and Reid beat the five other schools' representatives in the final, to ensure that their school secured the $2,000 award and the Thomas Saunders Challenge Trophy, which will be lodged at the institution for one year.
But the two Grade Six students got for themselves $250 in cash, a Kindle Fire each, trophies and a $25 start-up account with the KCCU.
The pair was ahead on points after three rounds of competition, in which they were questioned on local history, current affairs,general knowledge, sports and credit union affairs. A multiple choice round, an open-ended question round and a buzzer round tested the participants' knowledge of those categories.
Second with 27 points, two fewer than what Robertson and Reid accumulated, was the Richland Park Government duo of Aroma David and Syneilia Shoy. They earned $200 each, along with the second place individual trophies.
Completing the top three was an all-male combination of Ezra Knights and Collis Gibson, who represented the Dorsetshire Hill Government School.
Knights and Gibson finished with 20 points and received trophies and $150 each.
Meanwhile, representatives of the other three schools in the finals were presented with $100 each, along with tokens of school supplies. They were Zareah Byron and Pharon Durham of the Fair Hall Primary, Kala Bobb and Arielle Abbott of the Biabou Methodist and Jeran Glasgow and Renesha Adams of the Questelles Government.
The 2016 winners of the quiz, the CW Prescod Primary, did not make it past the preliminary round of the competition.(RT)