Posted on
Logos Hope floating book fair opens its doors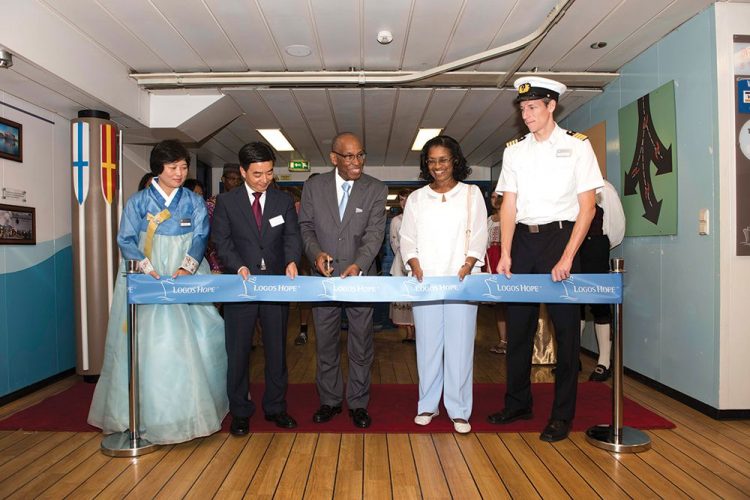 The Logos Hope is back in St Vincent and the Grenadines (SVG), offering 5,000 book titles and live performances to the Vincentian public.
On Tuesday, at the official opening ceremony, master of ceremonies Julie Knox explained that the floating book fair has visited SVG on 11 occasions, with 50,000 Vincentians boarding the ship during its last visit in 2015.
Logos Hope director, Pil-Hun Park, who has served the company since 1990, said the mission is to advance the well-being of persons and this is accomplished when they make good books available at a reasonable cost.
Logos Hope, he said, also provides health care services to areas which do not have and encourage hope among the volunteers, through their testimonies.
"Onboard the Logos Hope, we desire to express the heart of appreciation for all cultures both on board and those cultures that we visit. Finally, we want to reflect the love of our God in our ordinary lives…."
Deputy Prime Minister Sir Louis Straker said that reading needs to be more appreciated in the country.
"I trust that from these books provided here on this ship Logos Hope, we would be able to read, to refine our person, to uplift our minds and to ennoble our lives," Straker said.
Straker said it was his desire that the crew would enjoy SVG and to be blessed by the Vincentian hospitality.
The ship stocks educational, spiritual and children's books, which Knox said may not have been easily available otherwise.
There is a 'Journey of Life' display, which is about a young man's journey from riches to poverty. Then visitors are directed to the International Cafe where interaction with the crew members is encouraged.
On the weekends there will be live performances of the CS Lewis classic 'Narnia: The Lion, the Witch and the Wardrobe' beginning at 3:30 p.m and 6:30 p.m.
SEARCHLIGHT spoke with a few of the visitors to the boat on Tuesday. One of those was Nathalia Franklyn, who said, "… seeing all the different titles, it is exciting and the prices are really cheap. It's affordable, so I will like to encourage persons to come out and browse. There are books here you wouldn't dream of buying them for these prices."
Hyacynth Alexander said it was a wonderful experience.
"There are books that you wouldn't usually find at those prices," she said.
Captain Samuel Hils said members of the Logos Hope will journey to Bequia on Saturday, November 25, since some people there may not be able to visit the ship. They will have a small selection of books on sale on the second floor of Julie's Guest House from 10 a.m. to 3 p.m.
The book fair is open to the public from Tuesdays to Saturdays from 10 a.m. to 9 p.m. On Sundays, the boat opens from 2 p.m. to 9 p.m. and will be closed on Mondays.
Logos Hope is the fourth and only remaining ship in the Good Books for All (GBA Ships e.V) company, which has discontinued the voyages of former boats: Logos, Logos 2 and Duolos. The Logos Hope currently has 400 unpaid volunteers from 60 different nations.(CB)