Posted on
Frontline to hold more protests near cruise ship terminal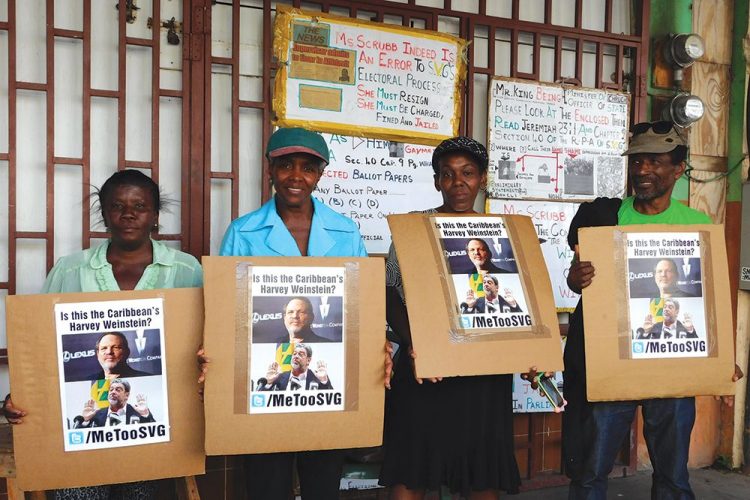 Additional protests are being planned for whenever a British cruise ship returns to Port Kingstown.
Luzette King, who stood with a placard at the entrance to the cruise ship and ferry berth last Friday, told SEARCHLIGHT in an interview on Monday that she plans to continue her protest, whenever a ship from Britain docks.
She is not protesting the presence of those ships, but the fact that Prime Minister Dr Ralph Gonsalves plans to conduct tours for passengers of the Britannia, a British cruise ship.
"The outcry that you hear about us being there, I did not hear a similar outcry when there was a news report that Ralph Gonsalves… was going to tour guide the tourists. Can you imagine him? Can you imagine this man around people?" King stated.
The Prime Minister had planned, on November 8, to guide tours of the sugar and rum industry, followed by a tour of the Prime Minister's official residence on November 17.
Hans King, the Prime Minister's press secretary, told SEARCHLIGHT on Wednesday, that Gonsalves did not conduct the tours.
On October 31, the Prime Minister was injured when his official vehicle came to a sudden stop in traffic. He was subsequently placed on sick leave.
The placards held by Luzette King and three other persons had two photographs, one of American film producer Harvey Weinstein, who has been accused of sexual harassment and assault, and the other of Prime Minister Ralph Gonsalves, with the caption: 'Is this the Caribbean Harvey Weinstein?'
King explained that the protest is in keeping with the United Nations 16-day campaign to raise awareness of sexual abuse and violence against women.
She said she deliberately kept quiet about her plans to stage the protest in order to avoid a confrontation with the authorities.
"…The reason we kept it quiet is that the police and them does panic and they does do stupid things," said King.
She denied that the opposition New Democratic Party (NDP) had any involvement with the protest and said that Terrance Ollivierre, parliamentary representative for the Southern Grenadines, had only chatted with them and moved on.
King said Leader of the Opposition Dr Godwin Friday passed by in a vehicle and when he saw them, he seemed surprised.
Friday told SEARCHLIGHT, in an interview on Tuesday, that he only learned of the protest shortly after coming off a ferry from Bequia, and had passed the area in a vehicle. He said the protesters acted of their own accord and he does not understand what the outcry is about.
"I learnt of the protest sometime shortly before, but I didn't organize it. But people are entitled to do what they think is in their political right to do. People may differ about strategy as to how you achieve your goals…but they have to know what they set out to accomplish.
"But the point is this. Somebody is having a peaceful protest and not interfering with people. I don't see how that would have the impact that people are suggesting…nothing was there saying that they are anti-tourist…," Friday stated.
King also rejected claims that the group had shoved placards in the faces of tourists.
"…All we did is we hold the placard…just the two of us were there to start…about eight in the morning. When we got up there, the tourists were just coming off. A lot of them passed and were looking and wanted to know and they would ask questions…One of them asked me, 'We know Weinstein, but who's this one?'"
King, who made it clear that she is not a member of the NDP, said also that she doesn't think there will be any backlash against our tourism industry, as British tourists off the cruise ship do not spend money.
Robert "Patches" Knights-King, who was on the picket line with King and is the public relations officer for the NDP West Kingstown group, said he makes his living primarily from tourism and would love to see tourists coming every day and that none of them told tourists not to come to St Vincent.
"We used that forum to sensitize the international arena…to get support to protect our women and our children and our aunts." Knights-King said.
Luzette King and Knights-King are members of 'The Front Line', a pressure group formed after the general elections of 2015, which has mounted protests outside the Electoral Office, Milton Cato Memorial Hospital and other areas around the country.(CB)