Posted on
Digicel launches 'The gift of TV on GO' Christmas promotion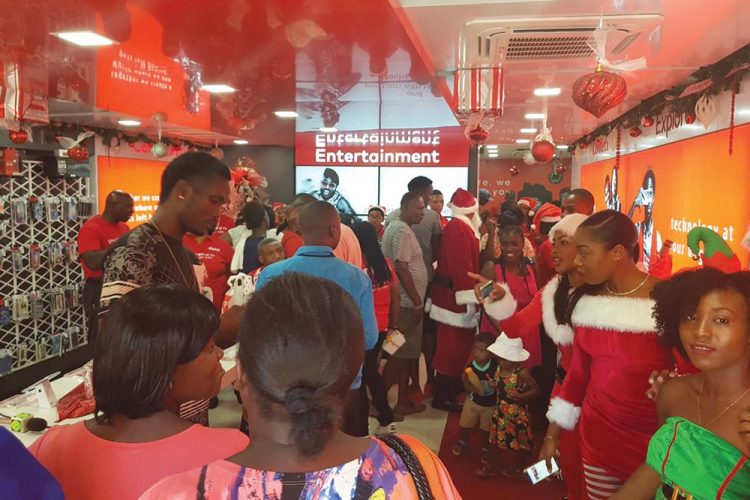 There is nothing some people love more than cash and television shows, so Digicel's Christmas promotion this year is just right for them.
The 2017 promotion, dubbed, "The gift of TV on GO", was launched on Tuesday at Digicel's flagship store, The Cell, on Halifax Street.
The promotion, which has several components, will see the telecommunications company rewarding persons who join the Digicel family, top up their pre-paid accounts EC$15 or more, as well as persons who pay their post-paid bills.
Every top up of EC$15 or more earns a prepaid customer a scratch card. With that scratch card, a customer can win cash valued at up to $10,000 and over $50,000 in prizes, including: ham, grog, groceries, credit, Quick Pick bundles, free handsets and discounts of over 65 per cent off handsets.
Speaking at Tuesday's launch, Digicel's consumer sales manager Fanta Williams said this is an exciting and rewarding time to be a Digicel customer, explaining that a postpaid customer will receive one scratch card for every $50 spent when they pay their bill and will get double the amount of scratch cards when they pay their bills via the My Digicel app. Williams added that this year's Christmas promotion will see prepaid customers enjoying even more value for their money, as customers will get double data when they activate Quick Pick 7 or 30 Day bundles via the My Digicel app.
Additionally, the other aspect of the 2017 Christmas promotion will see all Digicel customers given the opportunity to stream live movies, TV shows and sports on their mobile devices from 19 different television channels.
When launched, the streaming will be done through PlayGo, Digicel's all-new on demand and live streaming service with premium and exclusive content for sports fans and TV lovers. Channels include Sportsmax, Sportsmax 2, NBA TV, HGTV, Catch 2, Fight Sports, Food Network, Travel Channel and Weather Nation.
When this initiative is launched, subscribers will get an hour free streaming, after which they will be given the opportunity to use their data to stream, buy a PlayGo add-on or stream by WIFI.
The Gift of TV on GO promotion also offers several other goodies. New post-paid customers (who sign up between now and December 31) will be given two months free of service, along with cards to scratch for a chance to win $10,000 cash and over $50,000 in prizes.
Also, today, Black Friday, November 24, customers who join the Digicel family with a post-paid account will be offered 50 per cent off the latest Samsung handsets, including the Galaxy S8, S8+ and the Galaxy Note 8. Customers will also be able to purchase smartphones for as low as $99 at today's Black Friday sale at Digicel.
The launch culminated with a motorcade around Kingstown with gifts being distributed to persons along the way and featured music sensation Darron Andrews and dancers from Arabesque Dance Company.