Posted on
Coreas makes donations, gives back to public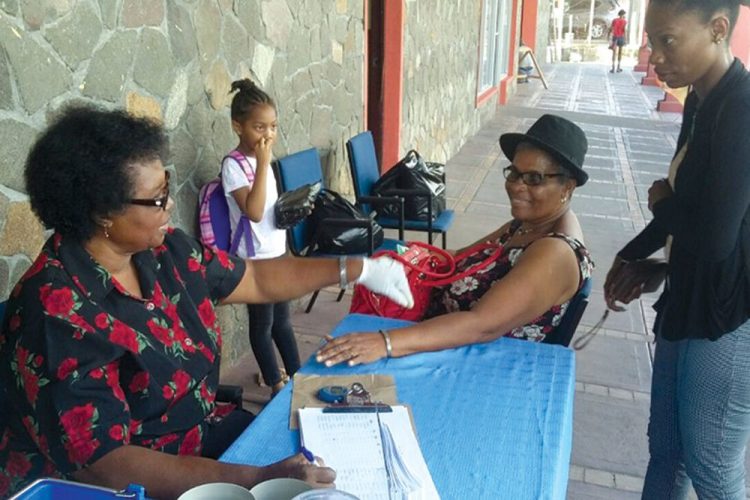 Coreas Pharmacies conducted free blood sugar testing at its pharmacies and donated two wheelchairs in recognition of World Diabetes Day.
On November 14, the blood sugar testing took place at each of the three Coreas Pharmacies from 10 a.m. to 2 p.m.
Then, on Wednesday, November 15, a party of Coreas Hazells Inc employees, including manager of Coreas Pharmacies Jean Johnney-Findlay, pharmacist Granfel Francis and marketing coordinator Esworth Roberts, journeyed to the windward side of the island to make donations of two wheelchairs.
The recipients were Peter Baptiste of Dickson and Lidan Jack of Orange Hill. They are both amputees and diabetics.
They were identified for assistance by the Ministry of Health, after Coreas Hazells offered the assistance. Staff nurse Ertrice Ellis of the Georgetown District also accompanied the team and witnessed the handing over.
Doretha Johnson, the caretaker of Peter Baptiste, received the wheelchair on his behalf and expressed much thanks for what she regarded as a worthwhile donation.
Lidan Jack was elated to welcome the team into his house. He was in high spirits, very jovial and did not hesitate to commence using his new aid in the presence of the team. He was also very appreciative, as he said jokingly, "I can now ride this all the way into town."
He continued, "I really appreciate receiving this from Coreas Hazells; this will help me a lot."
Jean Johnney-Findlay stated that "the management and staff of Coreas Pharmacies care about the well-being of their customers and assist when possible."
She said moments like these help to make her job fulfilling.
A resident of Barrouallie has also been identified to receive a similar donation within the next two weeks.
Coreas Hazells Inc will soon be launching a major initiative to address the issue of diabetes in SVG, a release said.