Posted on
Police, prosecutors better equipped to handle conspiracy cases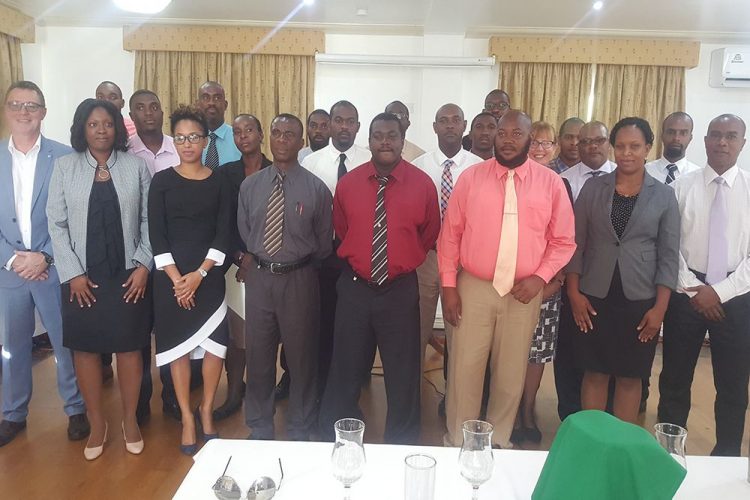 Police officers and prosecutors here are now better equipped to deal with criminal cases that involve conspiracy.
For two days, starting last week Monday at the Grenadine House in Kingstown Park, 20 persons from the Royal St Vincent and the Grenadines Police Force (SVGPF) and the office of the Director of Public Prosecutions (DPP) received training at a Conspiracy Building and Case Management workshop.
The workshop was paid for by the British High Commission and carried out by Red Snapper Learning, a United Kingdom based company that provides learning and development services to private, public, and third sector organizations that operate in the investigative, law enforcement, crime prevention, safeguarding and offender management work communities.
The workshop was facilitated by director of Education and Training at Red Snapper Learning Limited David Peacock and Rhoda Nikolay, a former defence lawyer and district crown prosecutor, with 30 years in the criminal justice system, working as a lawyer in the UK.
Speaking at the closing ceremony last Tuesday at Grenadine House, Assistant Commissioner of Police (ACP) Frankie Joseph said investigators and prosecutors know the importance of preparation, attention to detail and working within a limited time in the course of solving crime.
"You are now furnished with the necessary skills to stay ahead of criminal entities' attempts to become organized," said the ACP, who noted that during the two-day workshop, participants learnt the importance of case management and how important it is to be organized.
He added that the police force had a very close relationship with the DPP's office; therefore, he was encouraging investigators to maintain and build on that relationship whenever they conducted investigations into conspiring and all other serious crimes.
"I also want to urge you to do not keep what you have learnt from this workshop to yourself when you get back to your various departments, units, stations. I want you to share the knowledge, because the knowledge is most important if you share it and not if you keep it to yourself," said the ACP.
He added that a large portion of the intelligence the police receive comes from the co-conspirators who plan various offences.
"From this information, we learn the motive, the possible targets and what was to be gained from the offence if successfully executed.
"Criminals come together and meticulously plan their crime to purposely detract the investigators of these offences and they also plan how to get away. It is of utmost importance that law enforcement officers and prosecutors stay ahead of the curve," said the ACP, thanking the British High Commission and the facilitators of this workshop.
Commenting, facilitator Peacock said that it was a privilege to deliver the training, as the aim as a training provider is to touch, move and inspire people to do the very best in the career that they have chosen.
"As law enforcement officers and people that prosecute criminal offences, you play a vital role in society, so we are very proud to be part of that and we have over the last few days hopefully provided you with some of the skills and experience which we have gathered," said Peacock, who revealed that between him and Nikolay, there is a combined 62 years of experience.
He said that during the training, they made reference to cases that have been dealt with in the UK and with an understanding of local law, they presented to the delegates how to investigate and prosecute people who have engaged in criminal offences that amount to a criminal conspiracy, including murder, drug dealing and firearms.
Also making remarks, facilitator Nikolay said that the group was engaging, dedicated and willing to learn.
"I think that they go away today with a huge amount of experience that they can take into the field", said Nikolay.
Her statement was supported by Sergeant Malcolm Alexander, a detective with the Criminal Investigation Department (CID) for 18 years and Major Crimes Unit (MCU) for 13 years.
"I have dealt with several murders cases and matters related to conspiracy, but never formulated any charges, but this course impacted me on several issues that deterred me from laying charges before," said Sergeant Alexander.
He added, "It was a lot of knowledge and the way the instructors put out the lectures was remarkable, and the information gained, I am going to put them into practice and I have several matters under investigation and hoping to lay a conspiracy charge because the information that was given in relation to a case they highlighted to us is something almost similar to one that I am dealing with, so I am in a better position to execute my duties."
The training has also been delivered in Antigua and Barbuda, St Lucia and Grenada.(LC)