Posted on
NLA launches 'Play 4 Ham and Rum' Christmas promotion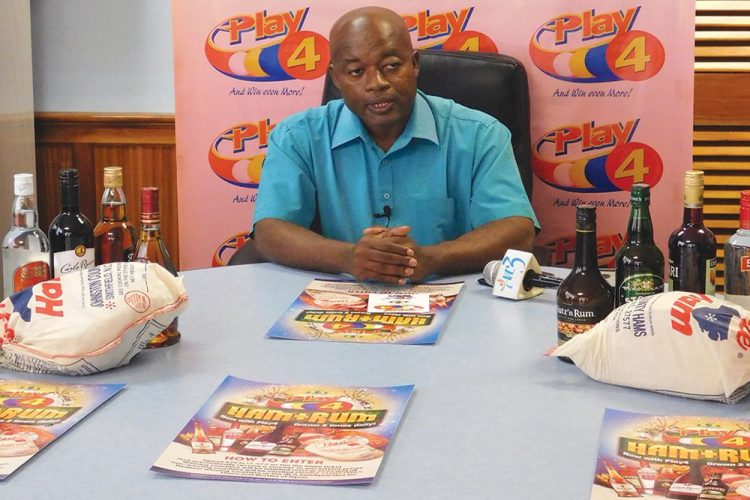 The National Lotteries Authority launched its 2017 Christmas promotion dubbed 'Play 4 Ham and Rum', during a press briefing earlier this week.
Product developer Anthony Dennie explained that, starting Wednesday, November 15, those purchasing a minimum of $10 worth of Play 4 on a single ticket will be able to participate.
He also said the Play 4 game is now drawn twice a day instead of only at night, which was previously the case.
Explaining the promotion, Dennie reiterated that the Play 4 purchases must be on a single ticket.
"…The sale must be on a single ticket. You can buy one dollar in line, two dollars in line, whatever you wish to, but it must be on a single ticket and it must be on a minimum purchase of $10. "
A coupon will then be printed and given to the customer, which, if the person is a winner, would say either 'Ham' or 'Rum'. If the customer is not a winner, the coupon will say 'Merry Christmas'.
Dennie urged Play 4 customers to ensure that the coupon is given to them by the cashier, as the coupon will not be attached to the Play 4 ticket. "It is instant. As you purchase those plays on a single ticket, the terminal will generate a coupon and there are winning coupons in the mix." The winning coupons will be used to redeem either a ham or one bottle of alcoholic drink from the NLA Headquarters in Kingstown.
The Play 4 game was first introduced in December 2014 and according to Dennie, the NLA recognized the appeal for a second Play 4 draw.
As of Wednesday, the Play 4 draw will take place at 1:50 p.m, right after the 3D draw and at 9 p.m., from Monday through Saturday. (CB)