Posted on
More students receive Taiwan scholarships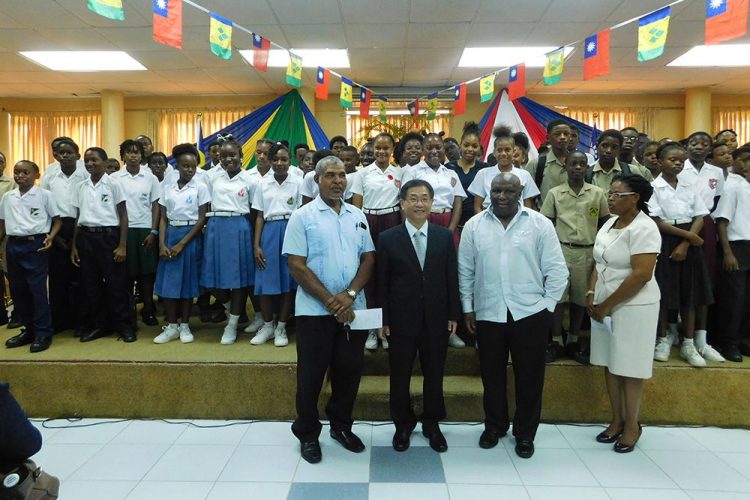 Seven hundred and ninety-three primary, secondary and post secondary school students were recipients of the annual Taiwan Scholarship – the Back to School Bursary Programme for 2017.
On November 9, at the presentation ceremony to those students within the Kingstown district, Taiwan Ambassador
to St Vincent and the Grenadines (SVG) Baushuan Ger said this year, they chose to double the bursaries from the 416 given in 2016.
Ambassador Ger further explained that a total of US$200,000 (EC$536,050) will be disbursed this year.
He said both Taiwan and SVG recognize how education can change lives and have put more resources into that field.
"In Taiwan, we like to say, 'it takes 10 years to grow a tree, but 100 years to nurture people. It says how important education is."
SEARCHLIGHT spoke with parents and guardians of some of the students who received bursaries.
Nakeshia Myers was present to represent her brother, who is a fourth form student at the St Vincent Grammar School. She said the bursary would help to pay for school related expenses.
"It will be able to pay for school projects; if they have to pay for SBA's, extra lessons and transportation wise, because we are coming from Leeward."
Ronelle Ballantyne said she pays $140 a month in transportation for her daughter from Sandy Bay and the bursary will help in making that payment and for lunch.
The Taiwan scholarship programme began in 1998 and has disbursed a total of EC$5.1 million or about EC$268,820 each year since then.
The Embassy also journeyed to Georgetown, Barrouallie, the St Vincent and the Grenadines Community College, Bequia and Marriaqua communities to disburse cheques and meet the recipients and their parents.(CB)