Posted on
FLOW launches 2017 Christmas promo 'For Everything That Matters'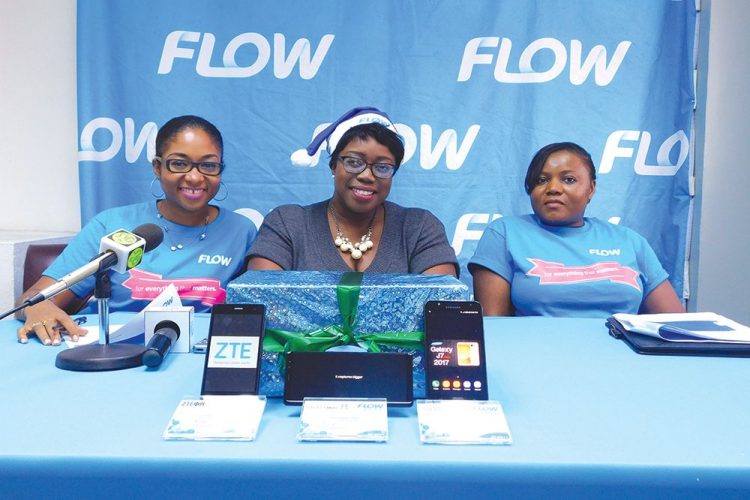 Flow is hailing their Christmas promotion as the best yet in St Vincent and the Grenadines, with new in-store deals, numerous prize give-aways and charitable activities.
The telecommunications company's Christmas promotion, dubbed 'For Everything That Matters,' which was launched on Wednesday at the company's head office in Kingstown, has as its objective to improve lives and help make this Christmas a memorable one for Vincentians.
Andrea Liverpool, consumer sales manager, announced that for new post-paid customers and those recently signed up to a post paid plan, Flow will now offer unlimited fixed and mobile calls with more minutes to third party.
"So, if we are to take our medium plan, for example you get unlimited Flow to Flow calling, 200 minutes to call third party and 100 international minutes and that is only a value of $99," Liverpool said.
She further said for the season, mobile combo plans will come with three months of double data, once the person signs up by December 31.
Prepaid customers who sign up for a seven-day combo plan or higher for voice, data and sms messages will also receive double data, once these are activated by December 31.
Discounts are available on movie packages when customers choose to bundle broadband and TV services. The customer will receive Fox Movies and Flow Sports free for two months, Flow Study free for one month, 50 per cent off HBO movies for three months and will get to choose a free gift.
Liverpool asked customers to think about what matters this Christmas as Flow has provided deals that will ensure greater communication with their families, or enable them to capture memories, using one of their new phones.
Marketing lead Nikala Williams said over this Christmas season, once a customer has made a transaction they will receive a gift.
"Choosing a gift from a suite of items like smart tvs, shopping sprees, smart phones, free services, discounts and more…so you're already bundling, you're already saving, you're already getting your free gift, but when you have finished your transaction, you are going to get to dip from a basket with all these wonderful items are in there," Williams said.
A Mega Life Makeover Grand Prize, valued at about $12,000, will be given to a person in need of help, nominated by one of Flow's customers.
Williams said the person may be nominated either through filling out a form in-store, on the Flow website or via Whatsapp. A panel will pick the winner who will receive: new household appliances; $500 worth of groceries; a free high end smart phone; mobile, tv, fixed line and Internet services for one year, as well as a head to toe makeover.
The marketing lead said the makeover is valued at $12,000, but will vary depending on the recipient's need.
"You see, if you don't have electricity in your house, not because we don't carry electricity at Flow, but we will take care of that," Williams declared.
'Smile For a Child' is another initiative which Flow is co-ordinating, which will see 100 children in Dominica receiving toys for Christmas.
Williams encouraged parents to assist their children in purchasing a toy, and dropping it at the Flow head office where Flow would wrap each gift, place the giver's name and receiver's name on the toys and deliver it to the child in Dominica.
The Cable and Wireless Charitable Fund, which was started this September, hosted a Chinese auction and food sale yesterday in an effort to raise $10,000 or more. The fund, which currently has over US $700,000. aims at reaching US$1,000,000 to help rebuild the infrastructure in hurricane ravaged sister islands.(CB)