Posted on
Credit Union League sends supplies worth $10,000 to assist Dominica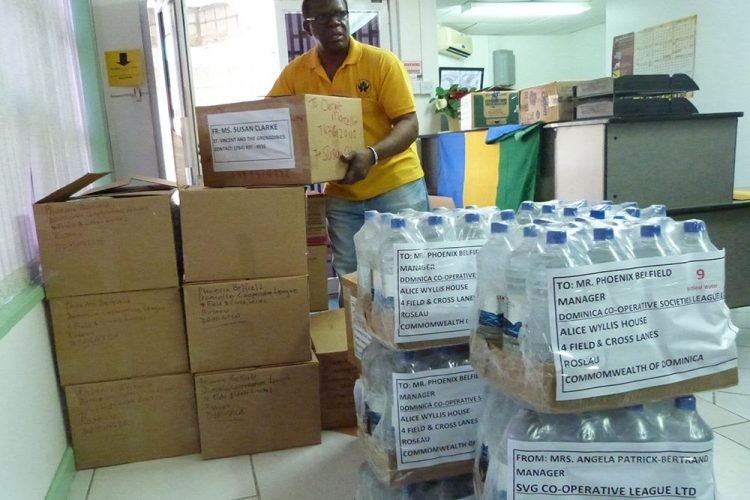 Ten thousand dollars worth of supplies were shipped by the St Vincent and the Grenadines Co-operative Credit Union League (The League) to Dominica earlier this month to assist with the ongoing need for support on that Island.
The League, which is the umbrella organization for all the credit unions in St Vincent and the Grenadines (SVG), had spent the month of October, which is credit union month, raising money and collecting supplies, which were shipped to Dominica on November 4.
Manager of The League, Angela Patrick-Bertrand stated that over the month of October, thanks to the support of many, including the North Union Secondary School, they were able to raise a large sum.
"We were able to successfully raise $10,000 to cover the goods and supplies that we have. Some of it came in, in cash and some of it came in in kind."
Therefore, 30 boxes of non-perishable food items, sacks of flour, sugar and bales of toilet paper were loaded onto a truck on November 3, to be shipped the following day from Kingstown, move through St Lucia and finally reach Dominica on November 7.
Patrick-Bertrand said the supplies are meant to assist the members of the credit union in Dominica, "first and foremost we expect that they'll be using the supplies to provide assistance to members and staff of credit unions and anybody else from the general public who would be in need of help."
She said from what she has heard since Hurricane Maria, the island is still in need of help and will still be in the future.
"We are affiliated to the Caribbean Confederation of Credit Unions and they had some personnel on the ground; they went into Dominica last week, so I spoke to the manager for there and he was telling us that it is really, really bad and the help that would be needed really would be continuous help all across the country."
She stated that the League will be seeking to send intermittent shipments to places affected by the hurricanes Maria and Irma, including Antigua and Barbuda, and this intiative will extend into the new year.
This is the second time that the League is sending help to Dominica, having already contributed US$20,000 in the way of aid to the Island.(KR)