Posted on
Massy boosts SVGMA's fight against breast cancer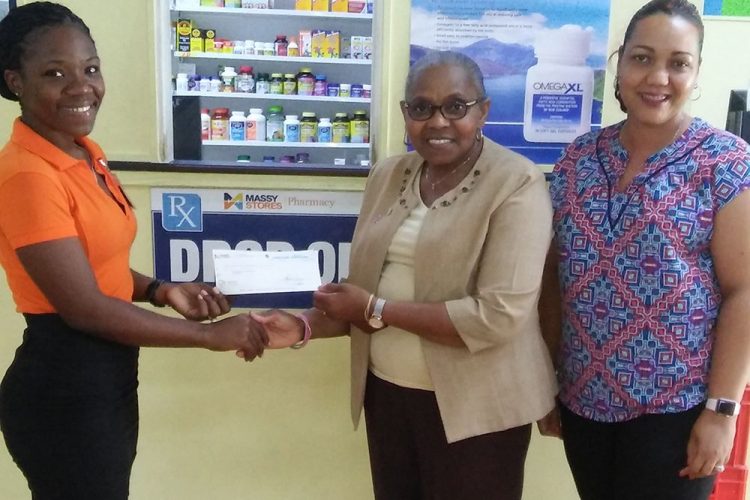 The St Vincent and the Grenadines Medical Association (SVGMA) and their breast cancer awareness fight received a much-needed boost from Massy Stores this week.
On Wednesday, at Massy's Upper Bay Street location, president of the SVGMA Rosalind Ambrose received a donation of $1,933.60 from marketing assistant at Massy Akene 'Prez' Keizer.
The supermarket chain raised the money through a Yoplait promotion.
Explaining the initiative, Keizer said that Yoplait and Massy decided "to stand together in the fight against breast cancer, so Yoplait donated 10 cents from every Yoplait product sold at Massy Stores to the SVG Medical Association."
Keizer noted that Massy decided to double the donation by making it 20 cents from every Yoplait sold.
The promotion ran from October 1 to October 31.
"Breast cancer is a serious medical condition that takes money to fight and we decided to help in any little way we could," said Keizer.
In response, Ambrose said that the SVGMA was very excited and happy to collaborate with Massy Stores.
She said the donation, which she described as "significant," will help the persons that the SVGMA assist with cancer treatment.
"This morning (Wednesday), we had a patient appeal for assistance. There are always people in need and it (the donation) means we have more funds to help," said Ambrose.
The SVGMA president also revealed that apart from the donation, Massy also helped the organization by selling the SVGMA handbags and other items, as well as assisting with their 5K run, which was done in collaboration with the Trinity School of Medicine.
"This is a very significant campaign of building awareness and Massy did go all the way to help us and we are happy to have this corporate collaboration," noted Ambrose.
She said persons who need help may write to the SVGMA through the Caribbean Medical Imaging Centre Ltd at Stoney Ground. All requests for assistance are reviewed and evaluated by the SVGMA.
Persons who wish to donate to the SVGMA may also make donations through the Caribbean Medical Imaging Centre Limited, as the SVGMA's treasurer Shannon Durrant-Samuel operates from that location.