Posted on
Man dies in Gibson Corner road accident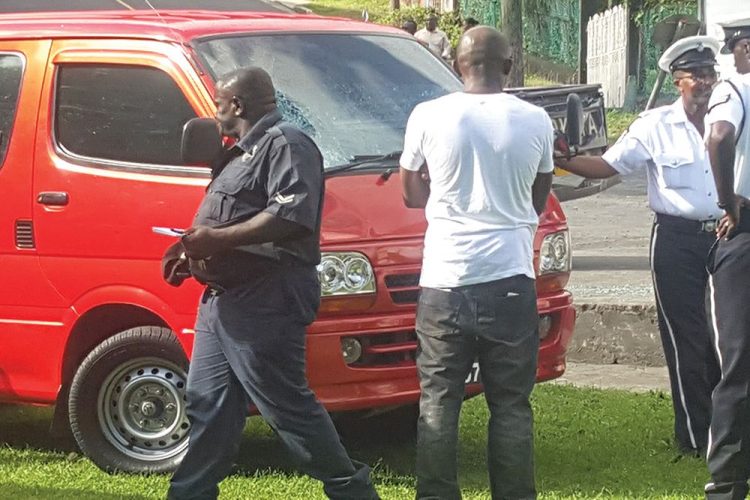 Gibson Corner resident Kenrick Cornelius Ince, also known as "Thunder Kick," became this country's fourth road fatality for 2017 last Wednesday.
Ince, a well-known character in the West and Central Kingstown areas, was struck by minivan H 9379 on the Gibson Corner main road around 2 p.m.
The driver of the minivan, 38-year-old Glaymore Allen of Old Montrose, said he was heading into Kingstown when Ince, who was walking in the centre of the road, ran across as the van approached.
The right front side of the orange Toyota van was damaged, and the windscreen broken. Ince, who was 56 years old, died on the way to the Milton Cato Memorial Hospital (MCMH).  
A relative of the deceased man said he was very helpful, but like everyone else had his ups and downs.
"He was good when he ready, but when he drink he would carry on, but overall he was alright; like to joke around and thing," said the relative, who prefers to remain anonymous.
Ince had no children and lived alone.
A resident of Gibson Corner for whom Ince did odd jobs said that it was sad the way he died.
"I hope the truth is told, because to me he get kill like a dog," said the angry resident.
Head of the Traffic Department of the Royal St Vincent and the Grenadines Police Force (RSVGPF) Inspector Kenneth John said Ince's death is the fourth road fatality for the year.
Inspector John said there were seven road deaths last year, while the department's statistics are showing that so
far, reported accidents are down from 2016.
He noted also that last year, the Independence season saw 17 accidents, down to five this year.
Ince's death is being investigated by the police.(LC)