Posted on
FLOW evacuates main office amid bomb threat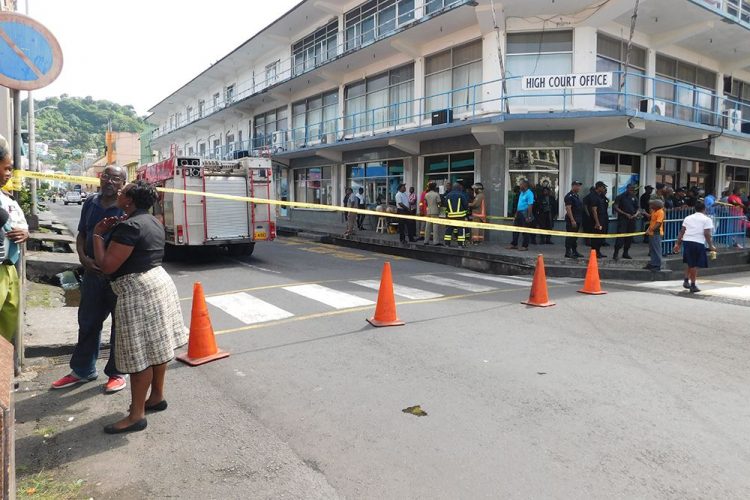 The western end of Halifax Street was cordoned off on Wednesday to give sufficient radius away from the Flow main office in Kingstown, where a bomb threat had been made.
At around 10 that morning, an unknown person called Flow's country manager, Wayne Hull, stating that a bomb had been planted within the company's compound.
"It was a call directly to me, indicating that they have planted the bomb within the building; that it was going to be a bloody day today and that we had one hour before the bomb went off.
"So, with that, we can't take any threat lightly, and so we took the precaution to call the police and evacuate the entire building. The police came in quick time; I was happy with their response and they did the necessary checks and action to clear the area. I guess they cleared the surrounding businesses and people who were in the immediate vicinity," Hull told SEARCHLIGHT.
The country manager disclosed that the call was received on his mobile telephone, but he said neither he, nor anyone close to him is aware of who that number belongs to. As for the motive for the threat, it is still unclear.
"You must be able to trace any number back to the cell phone; it's a simple technology. Every number that is assigned or sold to a person must have a name attached to it …" Hull stated.
According to Superintendent of Police Timothy Hazelwood of the Rapid Response Unit, after searching Flow's compound and finding no bomb, they concluded that the threat was a mischievous act.
"A thorough search was carried out and the normal procedure after a search is carried out and nothing is found, is that we give a grace period because the bomb was supposed to be carried out by 11, so by 1 o'clock in the p.m., we should be back to normalcy."
Pedestrian traffic through the area was curtailed for about three hours, during a time when many businesses would have welcomed the lunch hour traffic. Vehicular traffic up town was diverted up McKies Hill.
Members of the Fire Department were also present, on stand by.
An investigation is currently being carried out to find the perpetrator.(CB)