Posted on
Damaged cemetery in Sandy Bay to be addressed soon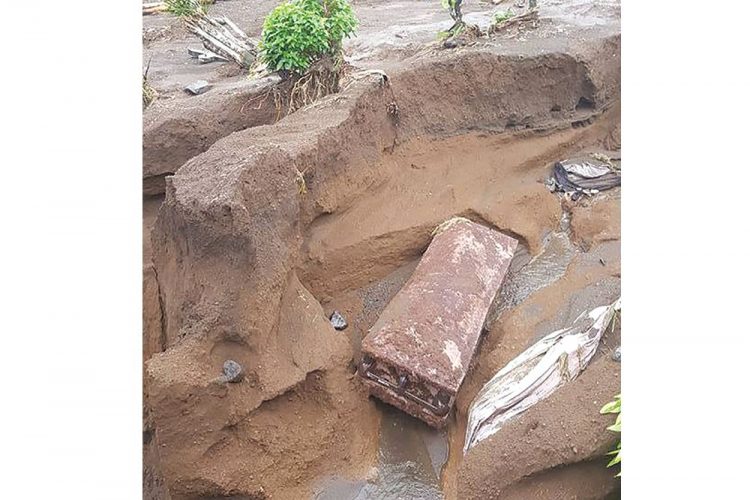 The risk of bodies being exposed by heavy rain at the cemetery in London, Sandy Bay will be "comprehensively addressed" within two months, says Minister of Health Luke Browne.
The Minister made the statement while responding to a question in Parliament on November 7. The question asked what is being done to address the problem with the cemetery in Sandy Bay, which was damaged by flooding and left bodies exposed, posing a health risk and desecrating the deceased.
The first and main incident wherein the deceased were exposed happened on November 29, 2016 after the passage of a major trough system with heavy rain.
The exposed graves were covered soon after and a plan "for major restoration work and the identification of a new cemetery site initiated," said the Minister.
However the problem remains ongoing, as in recent times, additional rainfall caused another coffin to be exposed.
The Minister stated that there is a legal process that needs to taken before the bodies are taken from their graves and reburied.
He said Cabinet, on October 4, 2017, established a group of public servants, who would work under the chairmanship of the Permanent Secretary in the Ministry of Health, to "discuss the possible relocation of the Sandy Bay cemetery."
The Minister said after much consideration, the decision was taken to "simply expand the cemetery unto an adjoining piece of land, which is actually part of the cemetery property, but has never been used and which has been separate from the current site of active burial by a small water channel."
He stated that the Roads, Buildings & General Services Authority (BRAGSA) has been asked to clear access to this piece of land. However, the use of the land is a short-term solution and it is expected that, "in three to five years time, there will be a need for an additional burial space." Restoration of the old cemetery will take place simultaneously, he said.
"We expect that within two months, the problem of compromised graves at London, Sandy Bay, will be comprehensively addressed and that old cemetery site will be restored and protected from flooding. This will be treated as a matter of urgency," the Minister said.