Posted on
Caved in road worsens, fissure appears at Sharpes, Chateaubelair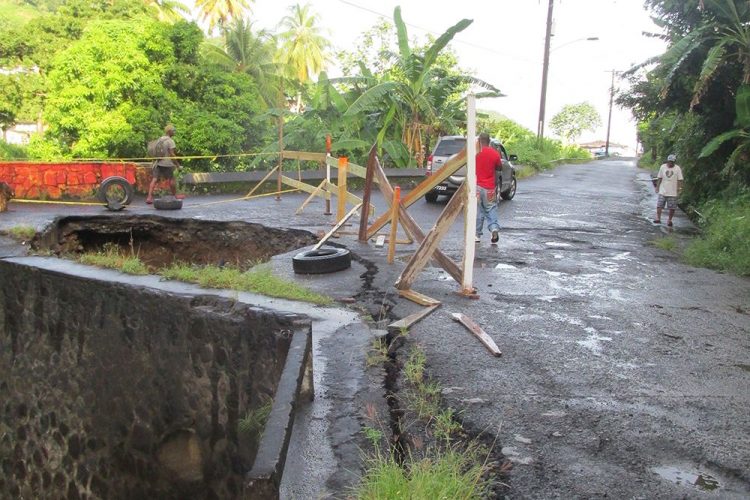 A team of officials from the Ministry of Transport and Works visited North Leeward on Tuesday to assess the damage to bridges and roads in the area, but the damage to sections of the road worsened overnight.
On Tuesday night, the caved in section of the road at the Sharpes bridge extended further, with a 20 foot long fissure appearing along where the old retaining wall joins the recently built section.
The Ministry team consisted of acting chief engineer Alistair Campbell, senior technician Raphael Cudjoe, civil engineering technician Byron Lewis and consultant engineer Cecil Harris. They took photographs and inspected the site at Sharpes from various angles.
Campbell told SEARCHLIGHT that they were informed about the cave in at Sharpes around 4 p.m. on Monday and have been monitoring the situation. He also said the damage is serious.
"Whatever happens will be no quick fix, so there will be inconveniences for a while; so we are asking citizens and motorists to be cautious and patient," the experienced engineer said.
Before leaving Sharpes to visit the bridge at Fitz-Hughes, where an abutment fell in on
Sunday morning, Campbell said residents and drivers must be commended for the manner in which they responded to the situation.
Wednesday morning saw the caved in area of the roadway at Sharpes widening and lengthening, a crack extending about 20 feet along the old section of the retaining wall of the alternate road to the turn-off at Sharpes bridge. The beam on the northern side of the bridge crumbled and the fissure in the retaining wall widened.
A work crew was deployed Tuesday evening and began cutting out potholes on the stretch of road leading to the Sharpes bridge, which is being used as a bypass around the area where the damage occurred. On Wednesday, the crew poured and pressed hot mix, while drivers waited for appropriate times to pass.
Some residents expressed to SEARCHLIGHT the fear that the Sharpes bridge may not bear up to the increased traffic. The bridge was built in 1973 and at first had a wooden bed, which was converted to concrete in the mid-90s.
The other route to get around the damaged site involves driving through Plan Village, past the school and turning right to get to the recently constructed Bailey bridge. The turn-off to the main road close to the Pentecostal church is, however, unstable, as a portion of the retaining wall recently suffered some damage during heavy rains.
Heavy traffic has been banned from the Fitz-Hughes bridge and there is no other way to drive to Richmond and Dark View Falls, which is of grave concern to truckers and tour operators.
A high level team from the Roads, Buildings and General Services Authority (BRAGSA) also visited the damaged sites on Wednesday. (AC)