Posted on
Bridges, roads in North Leeward damaged after heavy rains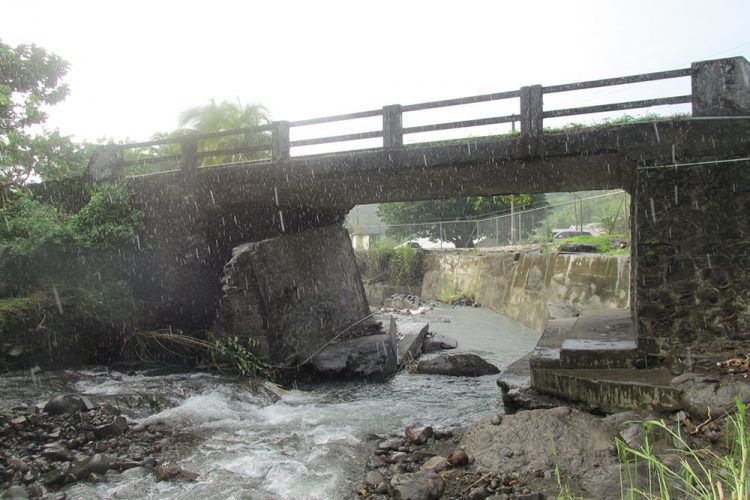 by Adrian Codogan
Traffic to and from down town Chateaubelair had to be re-routed through Sharpes Village yesterday, after a section of the road at Sharpes caved in, creating a large crater.
The incident happened at about 2:30 p.m. at the Sharpes road adjacent to the bridge, close to the Chateaubelair Playing Field.
Shortly after the collapse of the road, SEARCHLIGHT arrived on the scene and met taxi driver Collis Robinson, who said he was able to stop his vehicle H8095 about six feet from the pit, which measures about 7 ft x 12 ft and 7 ft deep.
Also on the scene was ambulance driver Kirt Francis, who was busy fetching rocks and old vehicle tyres to create barriers to warn motorists that the road had collapsed.
The retaining wall along the north of the bridge suffered a large crack and had been undermined by the recent heavy water flows, leaving the roadway along the northern bank a hollow shell.
Just the day before, residents of the neighbouring village of Fitz-Hughes awoke to find that the south retaining wall of the bridge close to the hydro electric power station had been torn completely off, allowing water to run behind.
Vehicles are, however, still travelling across the roadway, as the bridge appears normal from above and there are no caution signs displayed.
During the wee hours of Sunday, a massive landslide also occurred above the road to Fitz-Hughes, opposite the Blue Waters Club and close to the Golden Grove access road, which had been undermined and partly collapsed during the 2013 trough system. The Golden Grove road was also undermined in the area close to where the Golden Grove Playing Field was built and which has been closed to motorists for some time.
Residents have expressed apprehension that there is only one way to get to and from the Chateaubelair hospital, which has temporarily been transferred to the Golden Grove Learning Resource Centre while the hospital building is being retrofitted as a Smart hospital.
A wall at Barracks Village also collapsed into the property of the neighbour below.
So far, drivers have been taking the situation in stride and commuters who live at Sharpes Village have the luxury of being taken to their homes without the usual hassle, since traffic now passes through their village and over the bridge opposite the Glasgow home.
There are seven bridges spanning the Chateaubelair river.