Posted on
WINFA workshop 'promoting sustainable livelihoods among farmers'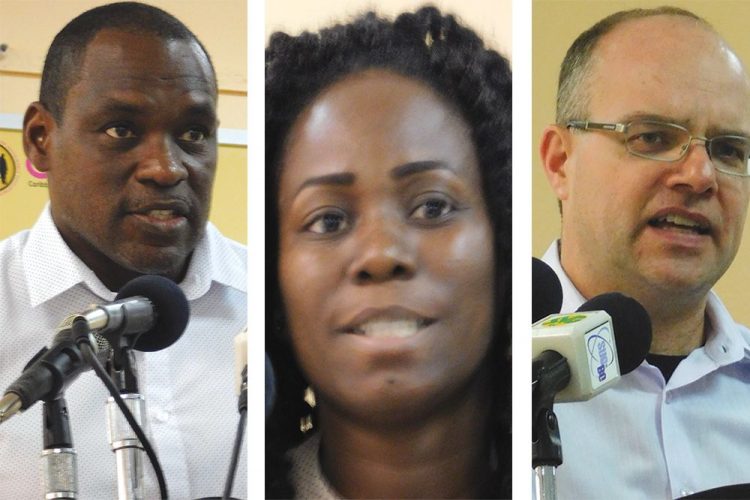 Some farmers in St Vincent and the Grenadines (SVG) are now better prepared to be productive and environmentally responsible producers.
Last Monday, the Windward Islands Farmers Association (WINFA) held a one-day seminar on 'corporate social responsibility' and 'sustainable livelihoods among Eastern Caribbean farmers', for various agricultural stakeholders at the Methodist Church Hall in Kingstown.
The workshop is part of an overall project dubbed 'Promoting sustainable livelihood among Eastern Caribbean farmers' and will run for 24 months. There are four phases to the project: preparation phase, capacity building, financing and enabling policy framework.
The project was co-funded by the European Union, the Caribbean Policy Development Centre (CPDC) and Pro NGO, with the seminar mainly funded by the European Union.
According to project administrator for CPDC, Mark Brathwaite, the project started in February this year with a workshop on climate smart agriculture.The goal of this second workshop is to improve the productivity and security of farmers, while maintaining a living from farming by introducing efficient technologies.
"Because we are trying to work with small farmers…we know that the energy use and putting that initial cost can be very high, so we are looking to put in the technologies that can lower those costs, while increasing productivity," the CPDC representative said.
WINFA co-ordinator Kozel Peter-Fraser said the workshop is part of WINFA's mandate to work with stakeholders within the agriculture sector to build responsiveness against challenges. Fraser also told farmers they have a part to play by paying attention to what they do, because it has an impact on the society around them.
The vice-chair of Pro NGO, Lothar Rieth, said the project follows the 17 sustainable development goals which St Vincent and the Grenadines and various other countries adopted on September 25, 2015 to end poverty, protect the planet and ensure prosperity for all.
Each of the 17 goals has special targets to be achieved over the next 15 years.(CB)