Posted on
Teachers Cooperative Credit Union awards bursaries, scholarships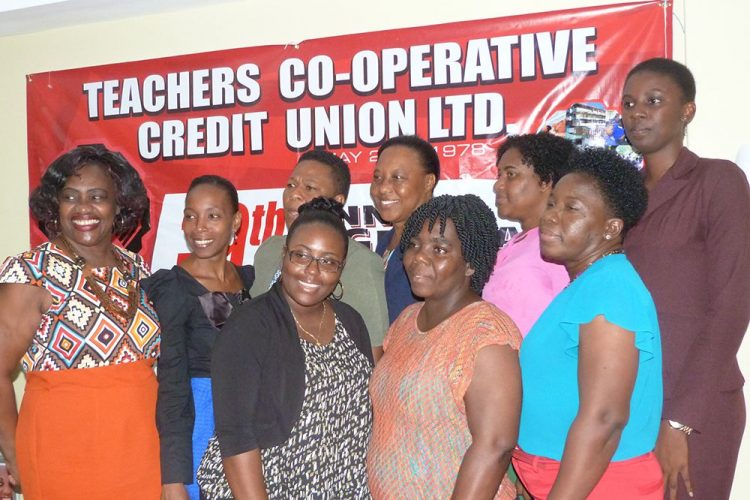 The Teachers Cooperative Credit Union (TCCU), in reflection of its belief in the importance of education to nation building, has this year awarded scholarships and bursaries collectively worth $32,000.
Seven bursary awards, two scholarship awards and one award of recognition were presented to successful applicants at a ceremony on October 31 at the TCCU headquarters.
Juliana Alexander, Attica Allen, Nadia Black, Susan Charles, Santa Cruikshank, Angella Deroche and Palma Warrick were the members of the TCCU who received bursary awards and students Carlon Bute and Anna Lowman of the St Vincent and the Grenadines Community College received scholarships.
The credit union also recognized one of their success stories, Daree Mayers, by giving him an award of recognition for fulfilling his scholarly potential over the years.
In her remarks at the ceremony, president of the TCCU Kay Martin-Jack stated that the Union recognizes how important education is in the scheme of things.
"…Support for education is as important as oxygen is to life. The Teachers Credit Union has recognized the significance of education towards nation building."
Chief executive officer of the TCCU, Jasmine Huggins-Daly, also highlighted the importance of education to the building of a nation.
"The TCCU is a teacher based organization and so we are elated that we are able to contribute to the continued education of our members and the children of our members."
She continued, "We are especially happy that we are able to contribute to the education of our youths of our nation, since they're the ones who will be the men and women of tomorrow. So, in a small way we are contributing to the building of our nation."
Nadia Black and Carlon Bute, recipients of a bursary and scholarship award respectively, spoke of their gratitude for the TCCU's support, which they were certain would provide them with the financial relief they needed.
Both also stated that the decision to grant the awards would not be one that the Union would come to regret, Black assuring "your investment will not go to waste, because we will continue to excel in our studies."
Bute also stated: "With grateful hearts we will endeavour to do our best to make the union feel satisfied that they have chosen the right individuals in the presentations here today."
The ceremony also involved the illumination of the achievement of Daree Myers, who has been financially supported since secondary school by the TCCU. Myers, who successfully completed his CAPE examinations and became a National Scholar, was presented with an award by the Union.
In his speech, Myers stated that his success was facilitated by the support he received from the Union.
"It was a really big help. It eased a lot of the strain off my parents. I never had to worry about how to get to school or how I get back from school. I always had my books. I was a very comfortable student."
Myers then turned his attention to the other recipients advising, "you're the plane and the Teachers Cooperative Credit Union has provided you with your wings; all you have to do is soar."(KR)