Posted on
'Soca D' takes Climate Change Secondary Schools Calypso Competition crown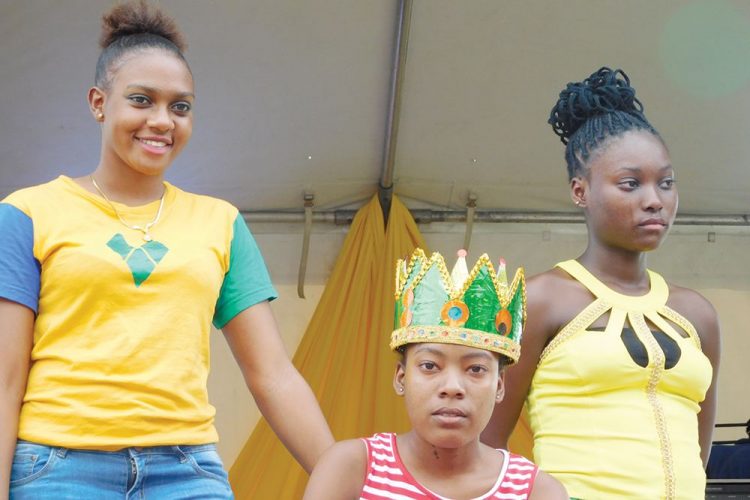 Delisha 'Soca D' Brackin, of the Sandy Bay Secondary School, has been crowned the winner of the Climate Change Secondary Schools Calypso Competition.
The competition was held last week Wednesday, 25 October at Victoria Park after the Schools' Independence Rally.
Along with the title, Soca D won EC$3,000 with her song 'Global Warming' and was in tears when she was crowned.
Coming in second was student of the Thomas Saunders Secondary, Kristiana 'Singing Kristy' Christopher, who won EC$2,000 with her rendition of the song 'Climate Change and We'.
Third place went to Ladonna 'Singing Lala' Free from the West St George Secondary School, who took home EC$1,000 with her song, 'All of Us Can'.
The event was a collaboration of the SVG Calypso Association, the SVG Red Cross and the Ministry of Education, in which 10 young calypsonians from six schools competed. Other participating schools were the Girls' High School, the Intermediate High School and the North Union Secondary.
Earlier that day, at the Schools' Independence Rally, students were asked to do things that would help to make the country a better place to live.
Chief education officer Beverley Neptune said: "It is therefore my hope that as we celebrate, we find time to work together to keep St Vincent and the Grenadines clean by not littering our streets, our beaches, our rivers; protecting our national parks and that we will always stand and sing our national anthem with pride. That we do everything in our power to stop the violence. That we commit to buying things that are local."
Minister of Education, St Claire Prince added that we should put aside our differences and make the nation's goals our own goals. He asked that we show compassion and respect to each other and work toward these goals diligently.
The rally, which flowed smoothly, included brief speeches from officials, performances from different schools in song, dance and musical items.
Students who performed exceptionally at their studies received their awards.
The awardees, who were smartly dressed, were all smiling to receive the fruits of their labour.
Darron Farrel, Teron Pope, Dorien Antrobus, Ariel Lewis, Shania Leslie and Justine Farrell received bursaries of EC $20,000 each for three years. Kamla David, Akeem Muhammad, Arielle Roberts, Tahleze Marksman, Donley Stapleton, Toni Pompey and Rhaine Williams were the winners of three-year exhibition awards and those receiving five-year national scholarships were Kayenna Bullock, Lashontae Shepherd, Jeremiah Augustus, Kadeem De Shong, Milieko Edwards, Che Grant, Shannique Alleyne, Christian Friday, Alexcia Burgin, Chrislon Fraser, Mikhailla Matthias, Michaela Miguel, Daree Myers.
Abigail Scott, Thande Myers and Kairel Edwards tied for first place and received the Prime Minister's award, which entitles them to a five-year university scholarship, as well as $10,000 and a medal.