Posted on
Gunshot victim wants stiffer penalties for criminals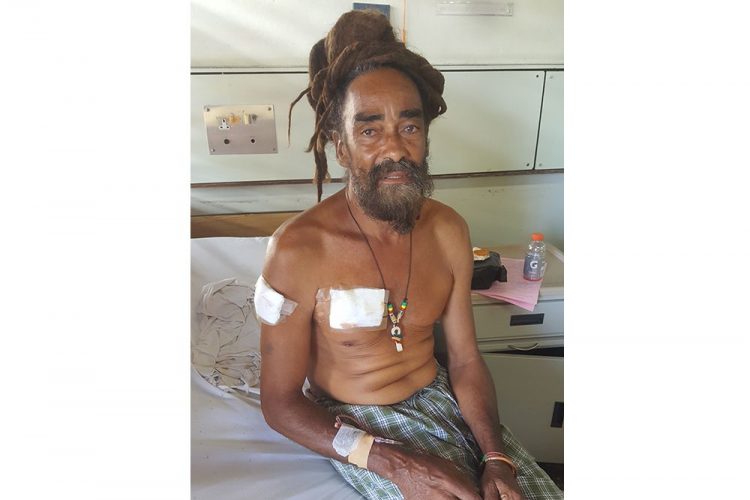 A gunshot victim is of the view that the authorities are too soft on crime and says he knows what can be done to deter criminals from committing violent acts.
"If they get caught with a gun, give them 30 years hard labour; if they are guilty of sexually molesting little children, stone them to death; and if they are guilty of murder, hang them a few days after," Malachi Kingman told SEARCHLIGHT on Thursday, from his bed at the Milton Cato Memorial Hospital (MCMH).
Kingman, a 58-year-old painter from Calder, was at his home around 8:28 p.m. Wednesday, when he was shot in his chest and right shoulder.
The Rastafarian said he was close to a window when he heard a loud sound. He said he thought that it was a bulb that blew out, but then he looked at the floor and saw "spots" and then he looked at his shoulder and saw blood spouting.
"I didn't even realize I get shot…I don't know who could do that to I; I don't have any enemy," said the confused man, who lives alone on the upper storey of his home, but rents the lower floor.
He said he pounded on the floor and alerted his tenants who called the police.
"I live good with everybody," said Kingman, who added that he does not think it was a robbery attempt, because he did not see anyone.
"I feel terrible about this, because a few days ago, I said I didn't hear anybody get shot or anything, but now is I," said the part-time farmer.
He said he thinks there are too many shootings and in his opinion, stiffer and more serious penalties should be meted out to criminals who think that they are above the law. He is also against persons getting bail for firearm possession.
Kingman is no stranger to tragedy, as he lost his wife a few years ago and his daughter in 2008, both from mysterious illnesses.
He said that he took his daughter to the United States for medical attention, but still never found out what had happened to her and that his daughter's best friend, also from Calder, died under similar mysterious circumstances.
Kingman is also unsure of exactly how his wife died, but has a few suspicions.
He noted that a little while after his daughter's death, relatives from his wife's side of the family came to his home and assaulted him. He said he was hit in his head and almost died.
Kingman said that he is not scared about going back to his home, but he has some persons he thinks the police can talk to about his shooting.
"Maybe they can find out where they were the time I got shot," suggested Kingman.
The dreadlocked man said he was looking forward to celebrating the coronation of Emperor Haile Selassie I and Empress Menen with his Rastafarian brethren on November 2, but he could not do so.
Police are investigating Kingman's wounding, the second shooting this week. On Monday night, Anthony "Shadow" Edwards was shot in his right arm at around 8:20 p.m. while at his business place in Wallilabou.
Reports are that he was wounded by two masked men who tried to rob him.(LC)