Posted on
SVGS wins 27th Lions Club South FLOW Public Speaking Competition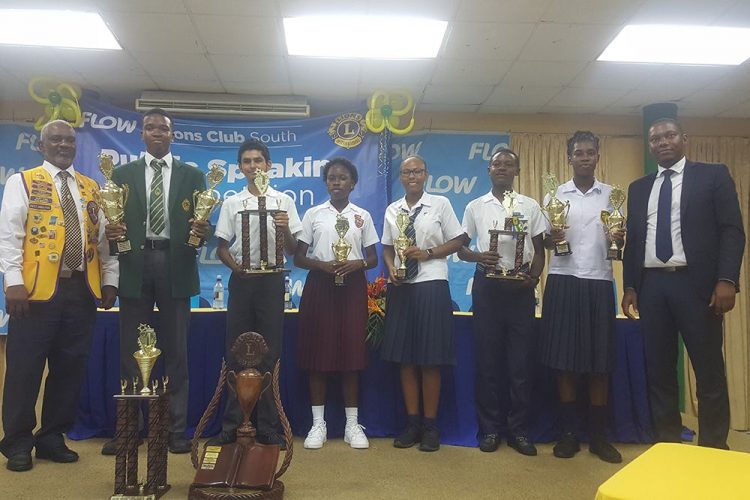 The President of the United States has a dangerous ideology that is spreading like a malignant cancer, infiltrating and eating away at North America.
This is the view of Jaykwarn Donald-Payne, a student of the St Vincent Grammar School (SVGS), who won the 27th Lion's Club South FLOW Secondary Schools Public Speaking Competition last Wednesday at the Methodist Church Hall in Kingstown.
On competition night, the six participants each made three presentations – one on a topic chosen by the Lions, one on a topic of the student's choice and the third, an impromptu topic, which was picked from a bag.
Donald-Payne, an articulate young man from Calder, won in the general topic and student prepared topic categories. His student prepared topic was a manifesto, "In the event that I become a Principal."
Speaking on the Lions' topic, "The emergence of Donald Trump politically, has fuelled a frightening set of extremism in the United States of America," Donald-Payne said that terms like "racist", "Islamophobic", "xenophobic" and "white supremacist" have been used to describe Trump, the man who holds the most powerful political office in the world.
He said the election to office of the 45th president of the US has unearthed hatred, bigotry and bile that run red hot into the mainstream of party politics.
Apart from that, the SVGS student said one of the most terrifying moves made by Trump was the nominations to his Cabinet which, as cited by the Huffington Post, "confirmed the worst fears of the defenders of civil rights and liberties."
Going further, Donald-Payne said that Attorney-General Jeff Sessions, former national security advisor Michael Flynn and head of the Central Intelligence Agency (CIA) Mike Pompeo were considered three of the most anti-immigrant and anti-Muslim public figures, yet they were nominated for the Cabinet.
"Chairperson, with this breed of men as presidential advisors, the xenophobic atmosphere in the US was anticipated," said Donald-Payne to a packed Methodist Church Hall.
He noted that Trump's success was hailed as the beginning of "dark times" for the United States, marked by domestic unrest and new foreign military campaigns.
"Additionally, last August, the world witnessed a day of fury, hate, violence and death, as white supremacists marched during the Unite the Right rally in Charlottesville, Virginia. Many carried slogans bearing the words 'White lives matter' and 'You will not replace us' – words that have been inspired by Donald Trump's policies."
Donald-Payne noted that Trump wavered in denouncing these far-right extremists and their role in this violent march and protest and this reaction created an ominous cloud over the world, "a cloud with no imminent silver lining."
His eloquent delivery knocked the St Joseph's Convent Marriaqua's (SJCM) Alejandro Tesorero into second place. Joel Ross of the St Martin's Secondary School (SMSS) was third. Reyann Williams of the Mountain View Seventh-Day Adventist Academy won the impromptu segment of the competition.
The other participants were Jozelle Henry from Bishop's College Kingstown (BCK) and Zoe Porter of the Girls' High School (GHS).(LC)