Posted on
Enforcement of building codes important in preventing disaster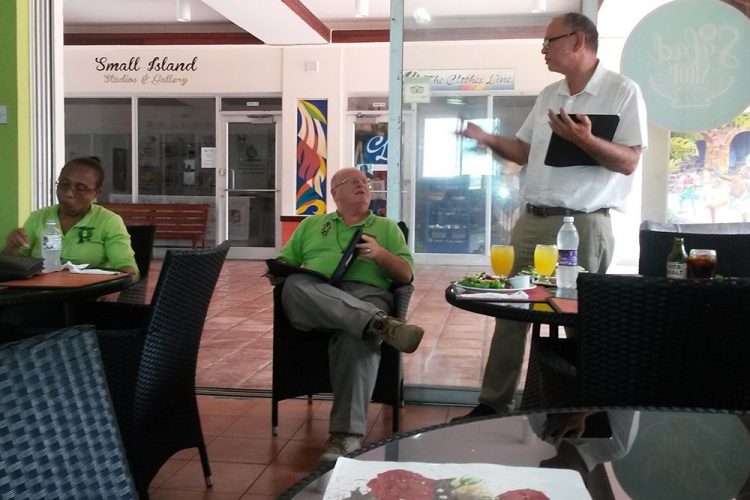 Much more than food was on the menu, when the local Insurance Institute held its lunch meeting on Wednesday, October 18.
Guest speaker Michael Gibson, of Gibson Construction Ltd, gripped the attention of the insurance professionals attending, with accurate details of weaknesses in buildings, both in St Vincent and the Grenadines (SVG) and in our Caribbean neighbours who have been hit by recent hurricanes and earthquakes.
He reminded attendees that SVG is officially a disaster-prone country, by virtue of the hazards it faces, including hurricanes, earthquakes, volcanoes, flooding etc.
He said we have building codes in place for very good practical reasons, as well as being a condition of overseas funding agencies.
The importance of enforcement of such codes was highlighted, especially the comparison of the "Martinique Model," where the insurance industry funds a "Bureau of Control" to certify that buildings meet rigid standards of strength.
Florida was noted for taking precautions long in advance of hurricanes, compared with most of our Caribbean territories, where the 'usual' steps are taken, but these steps are inadequate in the face of Category FIVE hurricanes like Irma and Maria.
SVG needs to view the heavy duty shutters on the Dominica Parliament building, to see what may be needed for the future. 
Style and appearance may not provide safety.
According to Gibson, many multi-storey buildings in SVG appear to be built on "stilts", but these columns are not being "tied" together, leaving them exposed to earth tremors and even high winds. The Gibson Corner scenario of recent years exposed evidence of buildings not being "tied into" their foundations. Secure buildings can be built on a 'Raft' foundation, which keeps the foundations and the building together in any earth-movements.
Roof designs, ridge caps, rafters were also hot topics explored, as well as the looting which, sadly, some persons are now doing even before the storm, leading to the thought that police and security companies need to be on alert in advance, as well as after the storm has passed.
The many questions which followed demonstrated the keen interest of the insurance professionals, and the importance of the insurance industry playing a much stronger role in relation to the buildings being offered for insurance. 
Attendees also asked for future meetings with officials from Physical Planning and other Government bodies involved in construction.
This stimulating lunchtime meeting was held in the relaxed welcoming atmosphere of De Salad Shop at the Cruise Ship Terminal. 
The Insurance Institute of SVG has been promoting insurance and public education since 1997, and current president Kim Haydock and her executive have recently held well-attended professional insurance training courses, with exams to follow shortly.