Posted on
Troumaca man confused over police shooting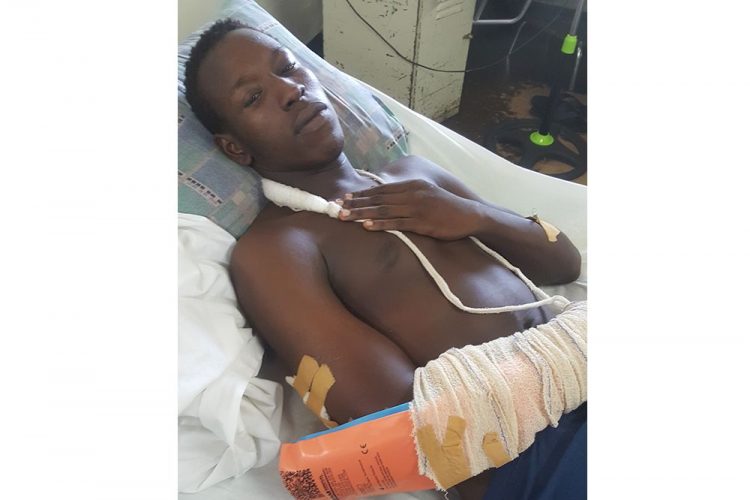 Emron Samuel, a Troumaca man who is recovering from a gunshot wound, is wondering what caused a man, whom he has identified as a police officer, to shoot him.
Samuel said on Friday, October 6, sometime after 7 p.m., he was at home in his kitchen when a policeman entered his home and shot him in his arm.
Speaking to SEARCHLIGHT on October 16 from his bed at the Milton Cato Memorial Hospital (MCMH), Samuel said a few minutes before he was shot in his right arm, he and his brother were involved in a fight in the road at Troumaca and someone called the police. His brother is a former police officer.
The wounded man said he hid from the police and went home, but a few minutes later, he saw a police officer (whom he knew from Chateaubelair) enter his kitchen, raise a pistol and shoot him in his arm.
He said the officer was dressed in a Rapid Response Unit (RRU) uniform.
"…Dem come just shoot me just so, walk up to me and shoot me," said the confused man. He said after he was shot, he was taken by police to the Chateaubelair Health Centre, then transferred to the MCMH.
Samuel said he was left at the hospital and while his father has enquired why he was shot, no explanation has been given. He said he has not been charged with a crime or questioned in relation to anything illegal.
"Since it happen, one police come talk to me…dem ain't tell me no reason yet," said the 24-year-old unemployed man, who has experience in plumbing and construction.
He said three other officers were present when he was shot.
"I leave it in me old man (father) hand; he going to the [human] rights people and we must would like justice," said Samuel.
A police source said that the matter is being investigated.(LC)