Posted on
No mining taking place – 'Dinky'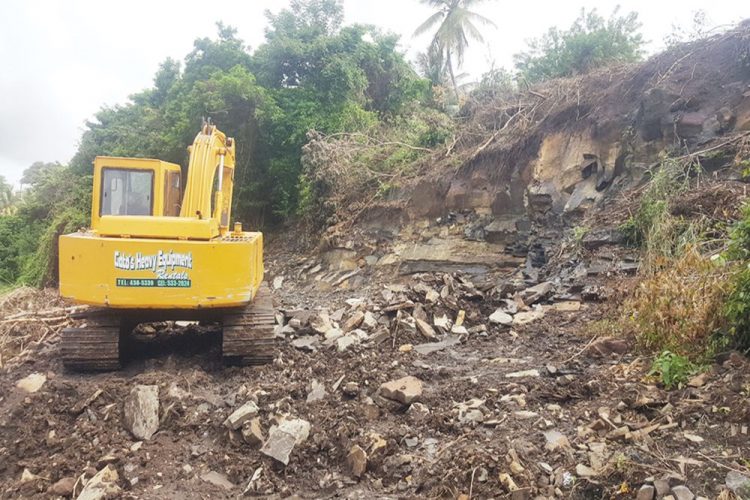 Cameron 'Dinky' Balcombe has denied allegations that he is conducting stone mining on a piece of land owned by his parents at Villa.
But Vaughn Toney, a United States (US) based Vincentian, who owns a property next to the Balcombe's land, is insisting that stone mining is going on.
"…this guy Balcombe is back at it again," Toney commented to SEARCHLIGHT via telephone on Monday.
The issue between Balcombe and Toney first came to the fore in April 2011, when Toney complained to the Central Planning Division and SEARCHLIGHT that Balcombe was mining stone. After his complaint was published, activity on the property ceased.
Toney is claiming that recent activity on the land again points to mining, but from what he knows, Balcombe has permission to clear trees and move loose stones, but not mine.
"Somebody is giving him cover to do stone mining in the middle of a residential community and he is completely scaring the face of the community and undermining the integrity," said Toney.
He said that his house is located above the Balcombe's property and he is hoping to put pressure on the authorities to stop the mining.
"It's an eyesore. I am not in St Vincent and the Grenadines (SVG), but the people who look after the property were having difficulties getting up the hill because of the gravel and dirt in the road," said Toney.
He noted that on different occasions, persons have had to wait for a tractor and trucks to move out of the road before they could pass.
When contacted, Balcombe said he plans to build apartments on the land and he has permission from the Planning Department to remove material to ready the land for construction.
He said a small excavator is on the property, as it had broken down, and the owners are trying to get it fixed.
"The tracks came off and they trying to fix. I mean, this is totally beyond me; I would not do anything without planning permission," said Balcombe.
Balcombe, a contractor, said he does not understand what Toney is complaining about, because he does not live in SVG and does not know what is going on.
He said he thinks that Toney is upset because he (Balcombe) complained to the Planning Division a few years ago that Toney was running waste water onto the property and a sanitary inspector was summoned.
Balcombe also accused the builders of Toney's home of using his parents' land as dumping ground for discarded galvanized iron and tiles.
"He was running water and I took the sanitary inspector and every since, he keep calling," said Balcombe.
When SEARCHLIGHT visited the property on Tuesday, we observed an excavator with a damaged track on the land, but no activity was taking place.