Posted on
New lawyer promises dedication and honesty in everything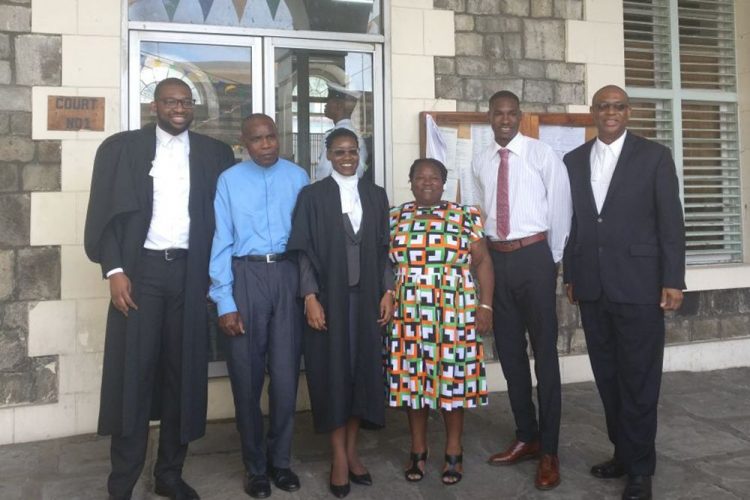 LeRosie Rose-Ann Richardson has made her family proud.
The Edinboro resident was on Tuesday, October 24 called to the Bar of St Vincent and the Grenadines (SVG) as a barrister and solicitor during a ceremony at the High Court office in Kingstown.
Richardson, the daughter of Leroy and Rosemarie Richardson, is the first person in her family to attend university.
"I am quite honoured, elated. It is always a privilege to continue one's education. I have oftentime seen how my parents struggled and I figure it must not be for nought. Everything I do is for them, my family," Richardson told SEARCHLIGHT in an interview on Tuesday.
A former student of the Kingstown Anglican School, the Girls' High School (GHS) and the St Vincent and the Grenadines Community College Division of Arts, Science and General Studies, Richardson graduated from the three-year programme at Cave Hill with a LLB (upper second class honours) in July 2015 and gained the Legal Education Certificate (LEC) from the Norman Manley Law school on September 8, 2017. She did not attend her graduation ceremony on September 30.
Richardson said that initially, law was not her career of choice. She wanted to be a doctor, but was encouraged to change course by then headmistress of the GHS Andrea Bowman, a decision she has not regretted.
"Mrs Bowman insisted that I choose the arts instead of the science class. I then realized that I had a gift for advocacy and a love for finding ways of getting my opinion across. I especially loved public speaking and engaging in talks about social issues," said Richardson.
The young woman, who considers herself a product of the Education Revolution, said her studies were paid for with a loan from the Student Loan Company and tuition scholarships. She is now offering her legal services free of cost at the office of the Director of Public Prosecutions (DPP).
"St Vincent is a small island, so there is no one type of law I can really limit myself to. However, I do love criminal law, especially prosecution. I did my mandatory 10-week in-service training at the office of the Director of Public Prosecutions and since my return from studies in June, I have been volunteering my services," revealed Richardson.
She said what will make her stand out in the profession is her dedication.
"I do not consider myself to be the most brilliant person; however, as a lawyer, I would stand out because of my dedication. When I intend to do something, I give it my best efforts. So too, I intend to handle my work; to be dedicated, honest and one who truly upholds the ethical principles of the profession.
"I wasn't born with a gold spoon in my mouth either; I am a roots girl, so I am very down to earth, approachable and relatable," Richardson told SEARCHLIGHT.
Richardson's application was presented by DPP Colin Williams and seconded by Crown Counsel in the DPP's office Karim Nelson, in front of Justice Nicola Byers of the Eastern Caribbean Supreme Court.
Williams, in his presentation, said Richardson is a fit and proper person to be admitted to the Bar, while Nelson stressed that Richardson has met all the criteria to be called to the Bar, including being of good character.
Richardson will be 25 next month and has one brother, Ronnie Richardson, five years her junior.(LC)