Posted on
Man sings his way to Aeropost Karaoke Competition title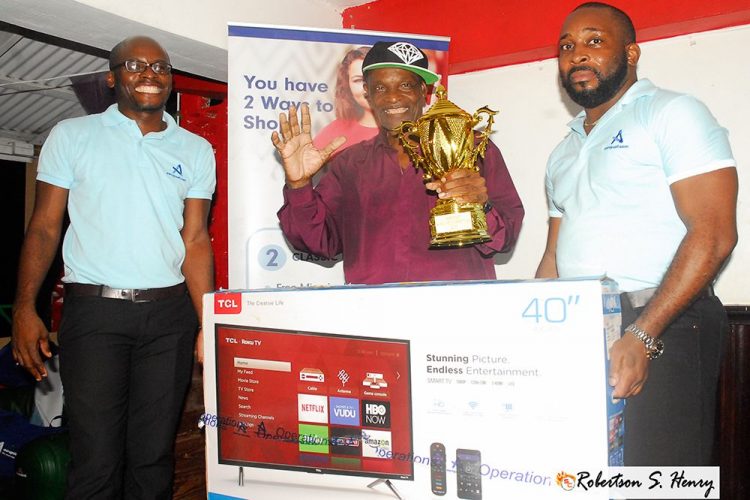 Kenrick Tuckett has won himself a recording contract, as part of his package of prizes in the 2017 Aeropost Karaoke Competition.
Before a sizeable crowd at the Altitude Bar in downtown Kingstown on Thursday, October 12, Tuckett out sang all other competitors to win the first ever Aeropost Karaoke Competition.
It was very stiff competition, not just from the seven other finalists, but also the 12 first round singers.
In the first round, the 12 participants sang songs that they chose, but for the eight finalists, the format changed.
Each singer chose a musical genre, and then dipped to pick a song of the genre from a bowl.
Tuckett sang an Otis Redding tune with such composure and poise that many in the audience were remarking even before the judges' decision was announced that it would be very difficult to beat him.
Coming in the first runner-up spot was Shenol Lewis, who took home dinner for two at the Blue Lagoon Hotel and a trophy; in second runner-up position was Dotsy Adams, who got a trophy and a tablet; and in the third runner-up spot was Abigail Warner, who took home a trophy.
A 40-inch smart television and a US$250 gift certificate from Aeropost, a recording contract with Arch City Entertainment Management Agency and the first place trophy made up the package for the winner.
Tuckett was ecstatic over his win and package of prizes, stating that he hopes to use the recording contract to put himself and his country on the world map.
Commercial manager at Aeropost (SVG) Jkwon Freeman said he was pleasantly surprised with the level not just of the participation, but the quality of the singing.
He said that Aeropost is very satisfied with the support received, as the Karaoke Competition was conceptualized to give persons an opportunity to showcase their singing talent.