Posted on
Invest SVG appoints new Executive Director and Deputy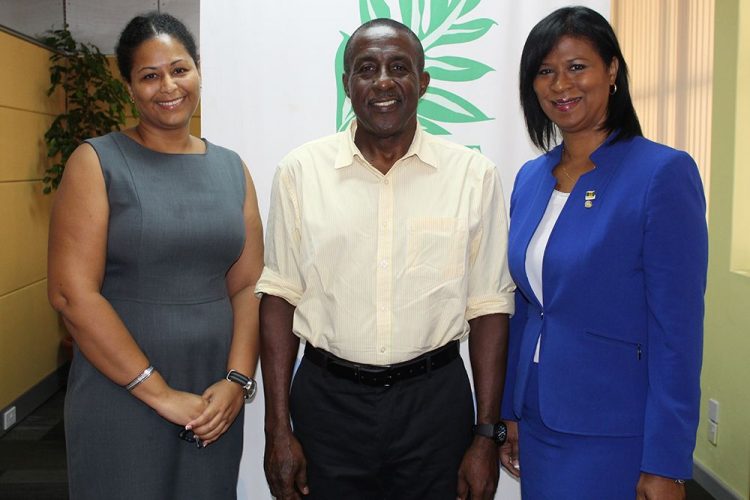 Vincentian national Annette Mark, who possesses a wealth of diverse professional work experience, is the new executive director at Invest SVG – St Vincent and the Grenadines' official investment promotions agency (IPA).
Additionally, Invest SVG also welcomes a new deputy executive director, Vincentian Nadine Agard-Juillerat, who brings a strong business and marketing background with her to the IPA.
Mark, who officially took up the post on Monday, October 16, said she is looking forward to this "new challenge" as she believes that our multi-island state is ready for investment – especially "in light of the fact that we now have a new international airport."
"It's a new challenge for me, but I've had many new challenges before, and I have risen to the occasion at all times. I plan to do the same at Invest SVG – take my experiences from over the years, and with the help of the staff, we can make something big of this!" asserted Mark.
"Invest SVG has to be more visible both internationally and locally in the services we offer and what we have achieved thus far and we must develop and find more avenues to assist our local market with exporting Vincentian products and services."
Mark also stated that she would like to see Invest SVG "come up with new and innovative ways" that will push the product that is St Vincent and the Grenadines (SVG) to the forefront on a regional and international level.
A past student of the St Vincent Girls' High School, Mark also shared her hopes for the further development of Invest SVG.
"In respect to the department itself, I would like to see us become more financially sustainable, rather than a department that depends entirely on Government."
Deputy executive director Nadine Agard-Juillerat, who has held positions at Invest SVG in the past, described the IPA as a "dynamic organization" and regards
her new post as an "opportunity to assist
Invest SVG in becoming a strong best practice IPA that will be a global leader
in its field."
"I believe that change is important and it thus allows us to adapt to certain circumstances easily. The FDI (Foreign Direct Investment) arena can be a difficult place to navigate, but we have a new executive director, who comes with a great deal of experience and a wealth of knowledge, with whom we can make a positive difference to St Vincent and the Grenadines," said Agard-Juillerat, who took up her post in early September.
She added: "I am proud to be part of a dedicated team, and look forward to seeing the organization experience its own growth and development."
Mark's immediate previous post was Antigua and Barbuda's chief immigration officer, and she has a legal educational background – holding Bachelor of Laws (LLB )(Hons) degree from the University of London (UK) and is a graduate of the Hugh Wooding Law School in Trinidad and Tobago.
Mark was also legal counsel for the Office of National Drug and Money Laundering Control Policy in Antigua and Barbuda.
Additionally, the mother of three is a former director of Anti-Corruption within the Office of the Attorney-General (Antigua and Barbuda) and has extensive legal experience in private practice in Trinidad and Tobago.
Agard-Juillerat has previously held the posts of international customer relationship officer at the European Commerce Bank Ltd, principal at consultancy firm Helconia Ltd, and business facilitation manager at Invest SVG – among others.
She holds a Bachelor of Science degree in Business Administration from the University of Rhode Island (USA); possesses training in FDI in the Caribbean, project management and banking; and is fluent in French, with proficiency in Spanish, Portuguese, basic Arabic and basic German.
Chair of the Board at Invest SVG Anthony Regisford said that the Board is happy to welcome on board the new executive director and deputy executive director, and holds confidence in their abilities to lead the organization – especially with the new executive director's background and the deputy executive director's institutional knowledge of Invest SVG.
"Annette brings with her strong leadership, coming from her job as chief immigration officer in Antigua – which is a role that carried a heavy set of responsibilities and calls for mature leadership," explained Regisford.
He also acknowledged the fact that Mark, over the years, has lived in several regional countries – as well as further afield – and this has expanded her outlook and the way in which she functions on a professional level.
"Her own network of influential and potential investors would be an asset to Invest SVG. We look forward to her and the team at Invest SVG delivering on its mandate!"