Posted on
IMTS non- emergency service now available to Vincentian public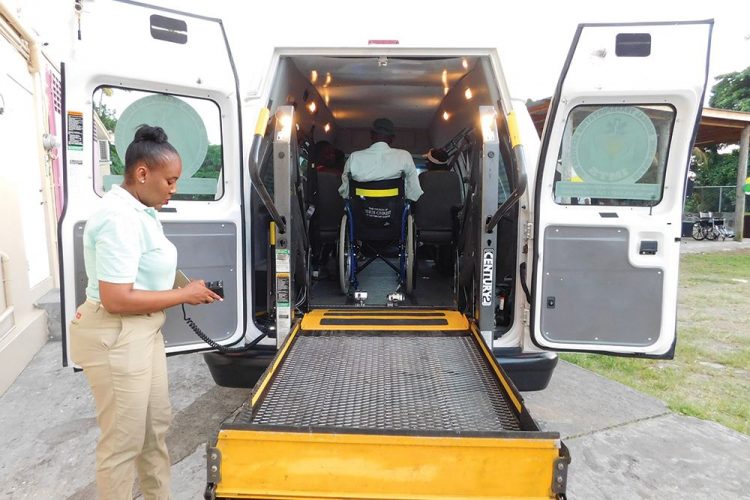 Vincentians now have available to them a non-emergency medical transportation system.
Island Wide Medical Transportation Services Inc (IMTS), which was formally opened last Friday, will provide transportation in wheelchair accessible vans for persons needing to keep appointments at medical facilities.
The company is headquartered in the 'Manna' building (formerly Highway Trading) at Arnos Vale and Michelle Millington, manager of IMTS, told SEARCHLIGHT that the company, which was established in 2014, saw that there was need for the service.
"Lots of persons with disabilities, the elderly, [those] who are shut-ins, do not have access to proper medical transportation. Whether it's to a doctor, a dental appointment, even persons who are doing dialysis, they don't have the adequate transportation to take them. Minibuses don't have the patience nor the training to take persons in those conditions and they don't drop them directly to their facilities," Millington said.
She emphasized that the service is not only for persons with disabilities, but for anyone needing a ride to a medical facility.
In addition to rides to appointments, IMTS will also do prescription drug pick-ups, hospital discharges, special engagements (church or funeral services), airport pick-ups and drop-offs, clinic visits, hospital visits (X-ray, MRI, CT scan), prenatal care appointments and wheelchair and stretcher services, among others.
The manager said although IMTS provides primarily non-emergency transport, their 'UrgaCare' service can meet the need for urgent transport.
"If you are a member, we can pick you up; however, a doctor or a certified practitioner has to accompany you to the hospital and we have a waiver form that you sign. Only if you are a member we will accept you as an 'Urgacare' in that instance."
Millington said so far the response has been promising.
However, despite the positive feedback, one person who works with the elderly and attended the opening ceremony, expressed concern about affordability.
"I think it's a good idea, but I'm concerned that most persons who are vulnerable and need the help may not be able to afford it…."
Founder of IMTS Andre 'Duke' Bailey believes otherwise.
"Yes, I understand there is a concern, but I have made the price very affordable, so that people would be able to afford it…
"But having a medical service like this brings great accessibility for people's health. Preventative health in the long run is cheaper than when you develop chronic illnesses that you could have detected in it's early stage."
The annual membership fees range from $200 (one trip per month) to $1,350 (unlimited trips, including accompaniment by a caregiver) and arrangements can be made to pay by instalments.
Bailey said to start, the Marriaqua, Calliaqua and Kingstown health districts will be serviced.
"We have pilot tested in those three districts. In the next six months, we could expand the services into the Cedars district, which is Biabou, Diamonds, Cedars, going up to the Windward and further we can expand to Georgetown health district. We're also going to expand to the Pembroke district, which is down at Layou."
At present, one van is available, but another is expected to arrive by the end of October and in six months time, plans are for two additional vans to be added to the fleet. Expansion to the Grenadines is also being considered.(CB)