Posted on
I am being attacked because of envy – Victim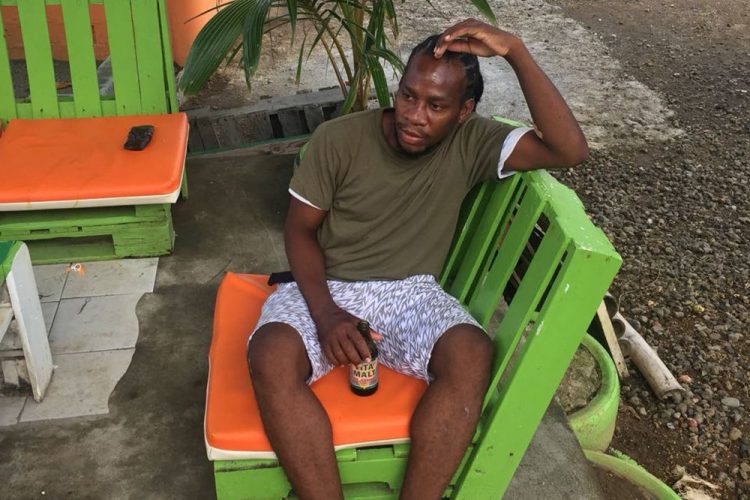 by Crystal Bacchus
A Chester Cottage man, who has been stabbed twice in the last six months, says he is being attacked because of envy.
Miguel Phillips spoke with SEARCHLIGHT recently, from the Male Surgical Ward of the Milton Cato Memorial Hospital (MCMH), where he is nursing wounds from the most recent attack.
He explained that on Saturday, October 7, he was jumped by two unmasked men while returning home from a fete on Bequia, where he resides for work.
"I heard footsteps and I watched back. I made out the two guys, so I tried to run, because I started to wonder what these two guys doing here now…while I tried to run, one on the left and one on the right, they tried to hold my jersey and they started stabbing me."
Despite the ordeal, Miguel was able to get away and survive the attack.
"I fell down in a gutter; that's how I managed to escape, because as I fell down in the gutter, I managed to get up and ran up in the drain and jumped over a wall, into someone's yard then headed to the hospital."
Phillips sustained multiple stab wounds to his left hand and arm, back and face. His nose has been split and had to be stitched both on the inside and outside of his nostril.
A mason by trade, Miguel explained that this is the second time for the year that he has been attacked and he recognized one of his most recent attackers as the half-brother of his first attacker.
In the April 7, 2017 incident, he was attacked in his home village of Chester Cottage, while walking to the village grocery shop. He had sustained chop wounds to his back and the attacker was sentenced to nine months in prison.
According to Miguel, he is being attacked because of envy, as the attacks began soon after he bought a piece of land.
"… From since I bought a piece of land, it's bare fight down in the village from certain people, not everyone."
Miguel's relatives also spoke to SEARCHLIGHT last week and agreed that the attacks began when Miguel purchased land at Chester Cottage.
They say since then, the Phillips family has been tormented by another family from the village.
Normanise Phillips, sister to Miguel, recalled one of the threats.
" They said, 'All yo purchase land and is building house and all yo wouldn't live to go into the house'," she related.
She further explained that friends of the family in question had wished to purchase the lands and were angered when Miguel, "a poor man", bought the land.
Normanise alleged that the people who wished to buy the land instructed the other family to "kill one of Dolcey children them."
"[They] took up the thing on their heads because they are all friends," Normanise said.
Doris Phillips, Miguel's mother, has already lost one of her sons to violence.
Ranique 'Wado' Phillips, a 23-year-old bartender, was killed after being attacked by a group on May 23, 2015, while he was at a popular karaoke house in Byera.
SEARCHLIGHT reported on the killing in 2015 and in that story, the family refuted rumours that the killing was gang related and said in their opinion, it was because of envy.
The Phillips family lamented that despite numerous reports to the Georgetown Police Station about the attacks on their family, as far as they are aware, nothing has been done.
"They (the other family) will go by the Police Station in Georgetown and tell a heap of lies and the police is believing them," said Helen Moore, Miguel's great aunt.
Miguel hopes he can get justice for this latest attack, although he is uncertain of what needs to be done to end the attacks.
"I hope they would find them and take them to prison, because look at the state of me. From now on, I don't know what I want to happen, because sometimes you make a report by the station and the police them going with who first come by the station. Which and while it's not suppose to work like that. They are suppose to find out the truth."
He also wishes for the feud to end.
A spokesperson of the police Public Relations Department told SEARCHLIGHT last Thursday that the Georgetown police are investigating the reports made by the Phillips family.