Posted on
History teacher called to the Bar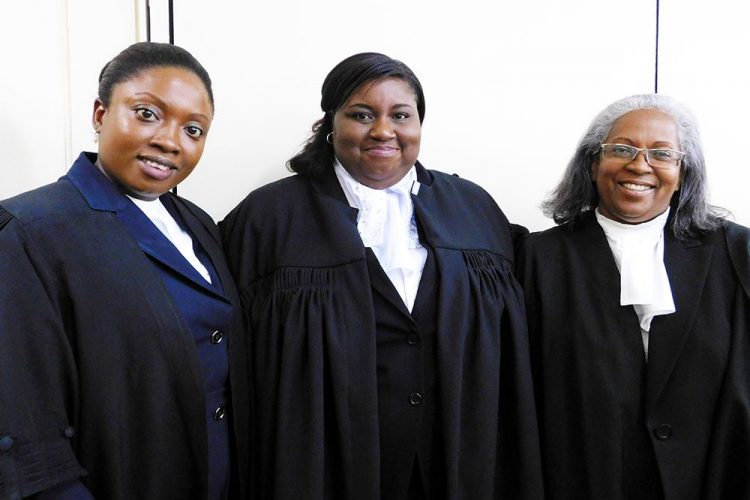 Layou resident and history teacher Taies Thomas can now practise as a barrister-at-law and solicitor at the Bar of St Vincent and the Grenadines.
Last Thursday, at the courtroom at the High Court office, Judith Jones-Morgan, outgoing Attorney-General, who moved Thomas' call, said she believes that Thomas possesses a good character and is a fit and proper person to be called to the Bar.
Jones-Morgan described Thomas as an excellent teacher with good mediation techniques, which is a skill which can well be utilized at the local Bar.
The outgoing Attorney-General said she was also convinced that Thomas, currently a teacher at the Girls' High School (GHS), would continue her professional development and training.
Thomas holds a Bachelor's degree in History, a Bachelor's degree in Law and a Legal Education Certificate from the Norman Manley Law School in Jamaica.
During the summers of 2016 and 2017, Thomas worked at the AttorneyGeneral's chambers as a legal intern, during which time, Jones-Morgan said she was better able to assess Thomas's character.
"…I was immediately impressed by her quick grasp of salient legal issues, her overall dedication and committment, her industriousness and … I believe Ms Thomas possesses a character of esteem. She's honest, she's caring, she's disciplined and she's quite respectful," Jones-Morgan said.
Sejilla McDowall, who seconded Thomas' move of claim to the Bar, agreed with Jones-Morgan's assessment of Thomas's character and added that she is an effective communicator.
She said Thomas worked as a scribe at a recent conference organized by the office of the Director of Public Prosecutions and she found her to be very reliable.
"… She was tasked with delivering the results of all the discussions and she did so effortlessly, because that is the confidence which she imbues."
McDowall said she believes that Thomas's personality is one that would bring colour to the courtroom.
In her appreciation speech after being robed, Thomas began by thanking God. She was effusive and emotional in her praise of her parents, Milton and Susan Thomas.
"Words cannot begin to express how much I am thankful for the support you provided these last five years. Your financial and emotional support, coupled with continous encouragement, made sure I was never wanting and that my sole focus was on the prize. Without you, today would not be possible. I will cherish the love given to me and I hope that today is one of the proudest moments of your lives."
Thomas also thanked her friends, colleagues at the GHS, the congregations of St James Anglican Church, Layou, along with St Mary's Buccament, St Stephens Church in Barbados and the Mona Chapel in Jamaica.
She thanked Jones-Morgan and McDowall, as well as others.
Presiding Judge Nicola Byers said Thomas reminded her of how much hard work goes into becoming a lawyer and offered her advice.
"You are surrounded by persons who have supported you, Ms Thomas. Lean on them, because in this profession, when you are being battered from left and right, … you will always have to bear in mind why you are here and what is the reason you became a lawyer."(CB)