Posted on
Vincentians walk for breast, prostate cancer awareness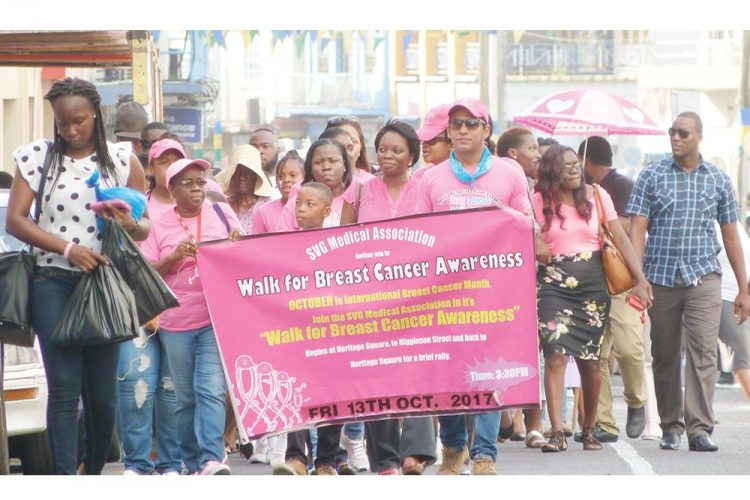 Dozens of pink-clad people came out in droves last Friday, holding signs and balloons, to march the length of Kingstown in the afternoon sun, as a show of support to those with breast and prostate cancer.
The 12th annual St Vincent and the Grenadines (SVG) Medical Association Pink Cap City Walk and Rally, which was organized by the SVG Medical Association, saw participation from all ages, including the CW Prescod School Drum Corps, Girl Guides, Rangers and students from the Trinity School of Medicine.
The walk was followed by a rally in Heritage Square, which featured speeches and performances from various artistes with two things in mind, support and awareness.
Dr Rosalind Ambrose, president of the SVG Medical Association, spoke at the rally about the importance of early detection.
"I am sure that this month of October, when we dress in pink, we send a signal to those who have not yet done so, to pay attention to their breast health," she said.
Ambrose also extended the plea to men to pay attention to their prostate health, saying, "similarly, we are asking all the brothers, fathers, uncles, grandads to do the same for prostate cancer."
Ambrose had one predominant message that she wished to bring across in her remarks, which was "Go to your doctors. Examine yourself. Raise your awareness."
Support was a similarly strong theme for the Walk and Rally, with many reminders that people should try to be pillars to those around them suffering from the disease.
Permanent Secretary in the Ministry of Education and cancer survivor Morine Williams spoke of her own experience with cancer, saying, "What I want to talk about as a survivor, someone who would have gone through 17 hours of surgery, one year of chemotherapy, radiation or radiotherapy – the most important thing that you can do for someone going through this ordeal is to give support."
Speaking on stage with her grandsons, she emphasized the importance of family in the fight against cancer and what it means to have people willing to cook for you or even go shopping for your groceries when you are that ill.
Minister of Health, Wellness and the Environment Luke Browne also spoke at the rally, giving a brief account of the measures that the Ministry is putting in place to fight both diseases. The Minister stated that cancer is the leading cause of death in SVG, with prostate cancer being the most prevalent form of the disease, followed by breast cancer.
"We are busy at the moment setting up … a dedicated oncology unit, which is going to allow us to improve our capacity for treating cancers," he said.
"We are also investing on training in many levels, training of pharmacists, training of nurses, training of doctors and training of other professionals who are important to the process of defeating cancer," he added.
It was clear from the Minister's remarks, however, that he believed the fight against cancer should not only be restricted to the Government or health officials; instead he reached out to all to participate. The Minister stated, "I encourage all Vincentians within the sound of my voice and beyond to do your part in bringing this disease under control."(KR)