Posted on
The Church works silently – Evangelical Association of Churches of SVG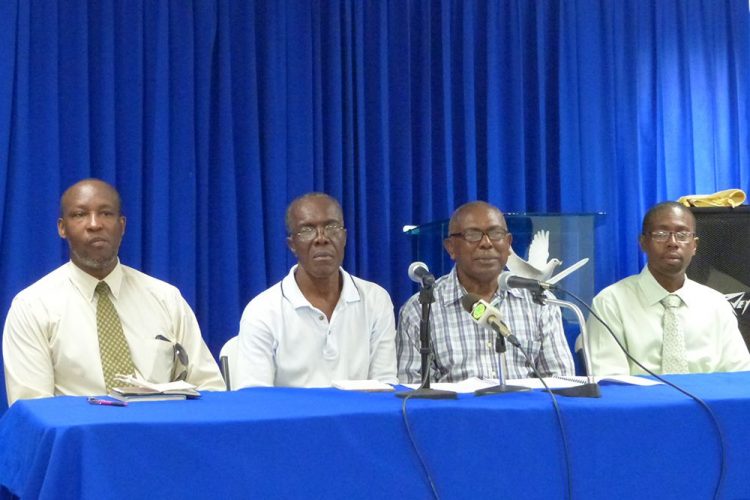 Those who believe that the Church should do more to address the crime situation do not understand the Church's mandate or how much work churches already do.
This point was made last week, during a press conference held by the Evangelical Association of Churches of St Vincent and the Grenadines.
Reverend Shakika Fraser, the secretary of the Association, said the Association has noted the increase in crime and violence in St Vincent and the Grenadines (SVG) and they "strongly condemn all acts of violence that are taking place in our island state."
The pastor attributed the rise in violence to a lack of regard for the sanctity of life and "regarding other persons as we want to regard ourselves."
He said in times like these, people tend to ask the question, 'What is the Church doing?'
In response, he said: "We are doing what we have been doing all the time over the years," referring to constant prayer and opening their doors to counsel those involved.
President of the Association Reverend Dr Reynold Murray said, "The Church is silent because the Church does not have a voice in the Vincentian context." He said the different denominations are separated by "name and geography."
"I know churches are doing things…but you don't hear that; you would not hear on the radio, you would not see that in the newspaper because we operate more silently."
Murray said many churches in the country take care of people who are in need, send children to school, provide disaster relief and feed the homeless, but they do it silently. He said upon inspection of the matter, persons "would realize that [the churches are] doing almost as humungous a job as the Government."
Continuing, Reverend Murray said there are those who think that the churches should do more.
"They want to see the Church come out with a placard…that's not our mandate my friends. The Church is more effective than that."
Giving advice to those directly involved in the commission of crimes, Reverend Fraser called on them to "think twice about what you are doing" and to "look to God because God can really make a change in one's life." He further stated: "We (Vincentians) consider ourselves the land of the blessed, so let us behave like people who are blessed."
"The Church in SVG is alive and well, fragmented by name and geography, but we are attempting to work on that," Reverend Murray ended.